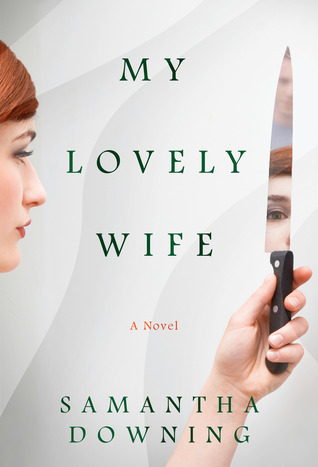 Synopsis from Good Reads:
Dexter meets Mr. and Mrs. Smith in this wildly compulsive debut thriller about a couple whose fifteen-year marriage has finally gotten too interesting…
 
Our love story is simple. I met a gorgeous woman. We fell in love. We had kids. We moved to the suburbs. We told each other our biggest dreams, and our darkest secrets. And then we got bored.

We look like a normal couple. We're your neighbors, the parents of your kid's friend, the acquaintances you keep meaning to get dinner with.

We all have secrets to keeping a marriage alive.

Ours just happens to be getting away with murder.
I received a copy of this title via NetGalley. It does not impact my review.
My Lovely Wife will be available March 26, 2019.
Well, this story was delightfully messed up. My Lovely Wife is compulsively readable with an anti-hero you know you shouldn't root for, but still do.
This was definitely a fun variation on the serial killer novel. Here the killers are a husband and wife team, though they're a little lacking on the team aspect. They both have secrets from each other and at various times throughout the story you will be trying to figure out just which one is more sinister. While I did think a lot of things were pretty obvious and was not really surprised with how it all ended up, it did have a couple of nice little reveals throughout that kept me on my toes.
One thing I thought was kind of odd is that we are never told the husband's name. The story is told through his first person POV and I honestly didn't even notice his real name was never mentioned until I sat down to write this review and couldn't remember it. This is not the first book I've come across that doesn't share the main character's name and I have to admit that I just don't understand what the impact is supposed to be? Maybe it's supposed to make me identify more with the character?
Overall, I enjoyed My Lovely Wife. This is one of those books where I don't feel like I can share too much more than I already have without really starting to give things away. I liked the main character, even though he was very messed up and I knew I shouldn't. He still managed to be just empathetic enough that I could almost overlook the bad things he's done. I liked the focus on the family and how the parents' actions were impacting their children. While the mystery may not shock seasoned readers of the genre, I think the compulsive writing and interesting characters will still make this an enjoyable read.
Overall Rating (out of 5): 4 Stars