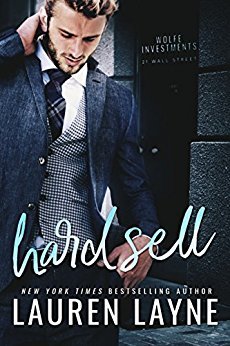 Synopsis from Good Reads:
He's a Wall Street wolf. She's been hired to tame him. From New York Times bestselling author Lauren Layne comes a wildly sexy novel of business and pleasure.

Twenty-eight and filthy rich, Matt Cannon is the youngest broker on Wall Street. He may be a "boy wonder," but he's every inch a man. Ask any woman—any night. But when Matt's latest fling makes scandalous headlines, his clients get anxious, and his bosses at Wolfe Investments level an ultimatum: keep his assets zipped, get a "real" girlfriend, and clean up his act. Only one woman can help Matt with something this hard.

For PR genius Sabrina Cross, the best fixer in Manhattan, playing Matt's steady is going to be a challenge, even if it's just for show. They already have an explosive history, she can't stand the cocky party boy, and worse—she can't stop thinking about him. So who'll dare to break her "no touching" rule first? Because when that happens, Matt and Sabrina's game of let's pretend will get so hot it could set both their reputations on fire.
I received a copy of this title via NetGalley. It does not impact my review.
Hard Sell will be available September 4, 2018. 
I love Lauren Layne books. They are always the perfect choice to get me out of any reading slump. Hard Sell is the second book in the 21 Wall Street series and I think I enjoyed it even more than the first.
I love both Fake Relationship and Hate-to-Love stories and this book utilized both. In the first book of the series Matt and Sabrina were side characters and I wasn't really sold on the idea of them being in a relationship, but I did end up really liking them together here. They've kind of had this dysfunctional thing for a few years and it was a slow burn to actual love and romance and I was here for it. I thought they were really well suited for each other and I liked how their friendship evolved, along with the romance.
Like all of Layne's books there were a couple of scenes that were a little more graphic than I like, but other than that I enjoyed pretty much every moment of the book. I like the cast of characters and I am really looking forward to getting a book focusing on Kennedy and Kate. One thing I would've liked to have seen a little more, though, is Sabrina's job. She's a "fixer" so I felt like there were endless possibilities for a little extra fun or drama, but there's really not much done with it.
Overall, I really enjoyed Hard Sell. Layne is easily one of my favorite Romance authors and I just love her more with each book I read. I definitely recommend this to Romance fans. While it is part of a series, it can be read as a standalone, as well.
Overall Rating (out of 5): 4 Stars