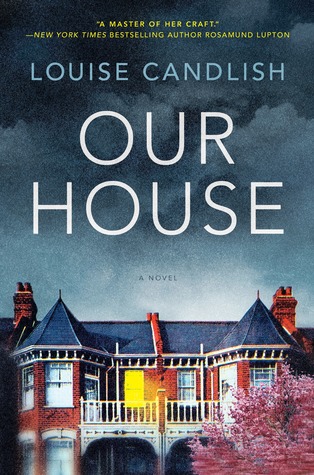 Synopsis from Good Reads:
On a bright January morning in the London suburbs, a family moves into the house they've just bought in Trinity Avenue. 

Nothing strange about that. Except it is your house. And you didn't sell it. 

When Fiona Lawson comes home to find strangers moving into her house, she's sure there's been a mistake. She and her estranged husband, Bram, have a modern co-parenting arrangement: bird's nest custody, where each parent spends a few nights a week with their two sons at the prized family home to maintain stability for their children. But the system built to protect their family ends up putting them in terrible jeopardy. In a domino effect of crimes and misdemeanors, the nest comes tumbling down.

Now Bram has disappeared and so have Fiona's children. As events spiral well beyond her control, Fiona will discover just how many lies her husband was weaving and how little they truly knew each other. But Bram's not the only one with things to hide, and some secrets are best kept to oneself, safe as houses.
I received a copy of this title from the publisher via a Good Reads giveaway and also an e-copy via NetGalley. This does not impact my review.
Our House will be available August 7, 2018. 
Our House is one of my most anticipated books of the summer and while it wasn't quite what I expected, I definitely enjoyed it.
I really liked the formatting of this novel. Fi tells her side of the story through a popular podcast and interspersed with it are tweets as people listen to the podcast and also excerpts from a document Bram is writing to tell his side of the story. There is also straightforward narration from both their POVs detailing the immediate aftermath of Fi finding out her house has been sold. I thought this style was used really effectively to reveal all the twists and turns throughout the story.
I thought the book was very character-driven and felt like I got to know both Fi and Bram pretty well. I have to say that Bram really frustrated me pretty much the whole book. He just told so many little lies that if he had just been honest about any of them early on then things would have never gotten so out of hand. It was hard not to feel like he deserved what happened to him. Fi was a more likable and empathetic character and I really felt bad for all the things Bram put her through.
While there were some fun twists and turns, I did figure most of them out well before they were revealed. I didn't really mind that, but it did make it feel unnecessarily long at times. I think the story would have benefited from being a little shorter and a little faster-paced. However, I liked that as I was trying to figure out some of the surprises, it took my attention off of something else that gave the very end of the book a nice twist and that ending is why I'm bumping my rating up a little more than I was originally planning.
Overall, I enjoyed Our House. Though it did feel a little longer than necessary and I did figure out many things before they were revealed, I enjoyed the twists and turns the story took and especially liked the ending. I recommend it to fans of character-driven mysteries, nontraditional formatting, and some unreliable narration. This was my first book by Louise Candlish and I definitely want to check out more from her.
Overall Rating (out of 5): 4 Stars