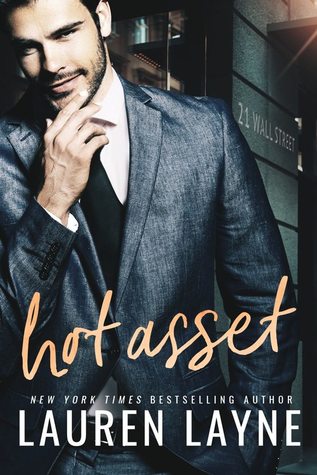 Synopsis from Good Reads:
A sexy agent hounds Wall Street's hottest new wolf in an exhilarating novel from New York Times bestselling author Lauren Layne.

Ian Bradley is the definition of a Wall Street hotshot: seven-figure salary, designer suits, and a corner office. His drive off the floor is just as potent. Every woman who knows him has felt the rush. But now he's met his match in Lara McKenzie—a woman with the power to bring Ian to his knees.

An ambitious, whip-smart daughter of FBI agents, Lara is a rising star in fighting white-collar crime. Her latest case—the investigation of Ian Bradley for insider trading—could make her career. She knows a scoundrel when she sees one. Ian fits the bill: a cocky, ridiculously handsome bad boy with a slick swagger.

She'll do anything to prove he's guilty. He'll do anything to prove he's not. But it's only a matter of time before their fierce battle of wits gets oh so hot and personal. Now, taking down Ian has become more than business for Lara. It's become a pleasure—and there's more at risk than she ever dreamed.
I received a copy of this title via NetGalley. It does not impact my review.
Hot Asset will be available May 22, 2018. 
Lauren Layne has become one of my favorite Romance authors and I enjoyed Hot Asset just as much as I expected to.
I thought the insider trading plotline was interesting. I don't think I've read a Romance with that particular angle before so it was something a little fresh, even though the rest of the plot played out very standard Romance. I would've liked just a little more information on how Wall Street works and the ins and outs of the SEC, but I did appreciate that there wasn't information overload with it either.
I liked Lara and Ian as characters and also as a couple. They have a mutual respect for each other and their work ethics. I do wish that it would've taken just a little longer for them to fall for each other, though. While Lara didn't let her feelings get in the way of her investigation, she did willingly put herself in some compromising positions multiple times and it felt a little more silly-schoolgirl than professional investigator. I also really enjoyed Ian's group of friends. I'm looking forward to their books, especially Kennedy and Kate's.
Overall, I enjoyed Hot Asset. I liked the setting and the characters and the romance. I thought about giving this 3 or 3.5 stars, just because, while enjoyable, it was a pretty standard, straight-forward romance. However, other than the couple of sex scenes, I don't really have any other complaints about the book, so I'm bumping it up to 4 stars. I would recommend this to Romance fans, especially fans of Lauren Layne.
Overall Rating (out of 5): 4 Stars