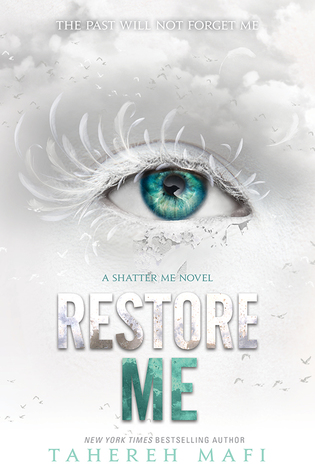 Synopsis from Good Reads:
Juliette Ferrars thought she'd won. She took over Sector 45, was named the new Supreme Commander, and now has Warner by her side. But she's still the girl with the ability to kill with a single touch—and now she's got the whole world in the palm of her hand. When tragedy hits, who will she become? Will she be able to control the power she wields and use it for good?
Well. I am glad I decided to wait for a library copy of this book instead of buying it. Despite being very excited for the continuation of this series (my love for Warner knows no bounds), I was a little cautious about it. I loved this series the first (several) times I read it, but the last time I tried re-reading it I felt like I had maybe outgrown it a little bit. I realized some of the things that happened – like basically destroying Adam's character just to make sure that everyone would pick Warner in the love triangle debate – was kind of lazy. I was still looking forward to revisiting these characters, though, hoping that Mafi would make up for some of the things I had issues with. Unfortunately, it fell short of even my lowered expectations.
Let's start with Juliette. I kind of hated her in this book. I felt like she had grown so much throughout the series into this really strong character, but here she was back to the whiny, self-centered Juliette of book 2. She had no idea what taking over as Supreme Commander means and we do not see her do anything but complain about how much mail she has to go through, go for leisurely walks with Kenji, and hook up with Warner. She is completely overcome with doubts, but gets angry any time someone tries to help her. NOTHING she did made any sense. She was so childish I couldn't even feel sorry for her.
Then there's her relationship with Warner. Warner, who has never been good about talking about his past. Warner, who has repeatedly shown her his insecurity in their relationship. Warner, whose father she just killed. When he discovers important information about her past and tells her about it, she blows up about the one piece of information he did know and hadn't told her about beforehand. I thought in Ignite Me they started a very solid partnership and I was looking forward to seeing that grow, but they took several gigantic steps backwards. It just really annoyed me that lack of communication and childish behavior were the main sources of tension Mafi used to reboot this series. Instead of giving the characters new challenges and letting them continue to grow, she reverted them back to how they used to be and are going to make them re-learn all the same lessons we've already seen them go through. 
And can we talk about Castle for a minute? Juliette is the supreme commander and Castle still beckons her like a student to the principal's office and she just goes and gets all nervous about whatever he has to say. Like, girl, you are in charge now! You don't have to do what he tells you. And you can make him tell you the things he's being evasive about. Also, all of sudden Castle knows everything about everything? I don't buy it. Nothing in the past books made him come across so knowledgeable or connected. It just felt way too convenient.
There were a few things I liked, though. Adam got a personality change again and went back to being a nice guy. And he reaches out to Warner and I liked their scene together. For the most part, though, I feel like he's outlived his usefulness to the story and he only had a couple of appearances. (The same goes for most of the Omega Point characters from the previous books, except for Castle and Kenji.) I also still love Warner. Even though his nonsense with Juliette annoyed me, I did feel like he grew in some ways in this book and was the only character to do so. The story is told in alternating first person POV between him and Juliette and I found myself kind of unable to care about Juliette's chapters because I liked Warner's so much more.
Overall, Restore Me left me extremely underwhelmed. It basically saved all plot development that didn't have to do with relationship drama to the last couple chapters and then it rushed through them. I thought it was pretty lazy writing to just have all the characters revert to previous versions of themselves and repeating past drama. I'm really hoping that Mafi will come up with some fresher ideas in the next books, which I will still read – because Warner.
Overall Rating (out of 5): 2 Stars