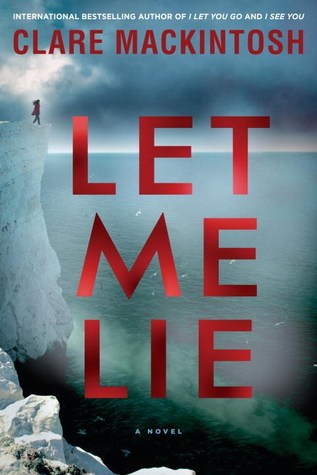 Synopsis from Good Reads:
Two years ago, Tom and Caroline Johnson committed suicide, one seemingly unable to live without the other. Their adult daughter, Anna, is struggling to come to terms with her parents' deaths, unable to comprehend why they chose to end their lives. Now with a young baby herself, she feels her mother's presence keenly and is determined to find out what really happened to her parents. But as Anna digs up the past, someone is trying to stop her. She soon learns that nothing is as it seemed.
I received a copy of this title via NetGalley. It does not impact my review.
Let Me Lie will be available March 13, 2018
Let Me Lie is a cleverly written mystery/suspense that I thoroughly enjoyed. This is Mackintosh's third book and I am continuously impressed with her writing. Her use of multiple narrators was so well done here. It's so hard to get into details without spoilers, but I feel like she pulled off her signature twists well. Even though I strongly suspected what was going to happen, I still really enjoyed the moment.
I thought Anna was a pretty likable, though she frustrated me at times. I wish she would've communicated a little bit better, but I found her an empathetic character. I also really loved getting Murray's POV. He's a retired detective that now works the front desk as a civilian. When Anna comes in and reports that she believes her parents were murdered, he decides to start investigating it himself. I loved all of his chapters. I think it's a testament to Mackintosh's writing that she made me care as much about the secondary storyline of what was going on in his life as I did the main mystery.
Sometimes you read a book at the exact right time and I feel that happened for me with Let Me Lie. Anna discovered that she really did not know some of the people closest to her. As someone who has recently discovered this about a parent, I found some of the emotions she went through really relatable. I highlighted a lot of passages that perfectly expressed how I've felt as I've tried to process everything going on. I found reading this pretty cathartic and it made the book just that much better for me.
Overall, I really enjoyed Let Me Lie. I loved the way the multiple narrators were utilized and thought the twists were very well done. The pacing did feel a little slow in the beginning, but it definitely picked up as the book went on. I also really empathized with some of the emotions Anna tried to work through. I'm really looking forward to whatever Mackintosh does next.
Overall Rating (out of 5): 4 Stars