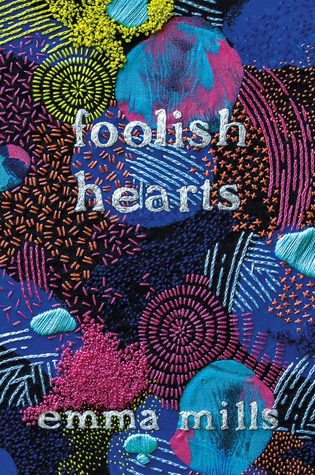 Synopsis from  Good Reads:
A contemporary novel about a girl whose high school production of A Midsummer Night's Dream leads her to new friends—and maybe even new love.

The day of the last party of the summer, Claudia overhears a conversation she wasn't supposed to. Now on the wrong side of one of the meanest girls in school, Claudia doesn't know what to expect when the two are paired up to write a paper—let alone when they're both forced to try out for the school production of A Midsummer Night's Dream.

But mandatory participation has its upsides—namely, an unexpected friendship, a boy band obsession, and a guy with the best dimpled smile Claudia's ever seen. As Claudia's world starts to expand, she finds that maybe there are some things worth sticking her neck out for.
Few things make me sadder than finishing an Emma Mills books. I always get so invested in the characters that I feel like I could just keep reading about them forever.
To be perfectly honest, I didn't really think this book sounded that good based on the synopsis. If it was by any other author, I may not have even picked it up. But Mills is one of my favorite YA authors and I have absolutely adored her last two books, so I knew that I would read this book before it even had a title. And just as I expected, I loved this one, too. While there were still a couple things with the plot I didn't really care for (like the extremely overboard description of the online video game, Battle Quest, which I could not have cared less about), it is very character driven and I loved many of the characters.
Claudia was sarcastic and relatable and I really enjoyed her. I liked her relationship with her family (though they did play a smaller part in the overall story than I was expecting, as compared with Mills' previous books). I loved her growing friendship with Iris. Iris was a bit of a tough nut to crack and I didn't care for her for awhile, but she definitely grew on me and was one of my favorite characters by the end. I also did not love Gideon, Claudia's new love interest, in the beginning. He seemed like the male version of the Manic Pixie Dream Girl (which is not my cup of tea), but I didn't keep that opinion for long. There was much more to him and I ended up really liking him and his growing relationship with Claudia. I also loved his friendship with his best friend, Noah.
One of my favorite things about this book was the humor. Mills writes with such a subtle, sarcastic sense of humor that is exactly my kind of humor (though I suppose it might not be for everybody). I loved how bantery and fun the dialogue was at times, as well.
Overall, I really enjoyed Foolish Hearts. I loved the humor and the characters and the relationships and the boy band obsession and the romance. This has been one of my most anticipated books of the year and it did not disappoint. I definitely recommend this one to YA fans and can't wait to read whatever Emma Mills writes next.
Overall Rating (out of 5): 4 Stars