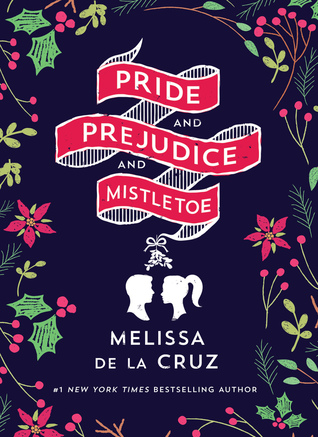 Synopsis from Good Reads:
Darcy Fitzwilliam is 29, beautiful, successful, and brilliant. She dates hedge funders and basketball stars and is never without her three cellphones—one for work, one for play, and one to throw at her assistant (just kidding). Darcy's never fallen in love, never has time for anyone else's drama, and never goes home for Christmas if she can help it. But when her mother falls ill, she comes home to Pemberley, Ohio, to spend the season with her dad and little brother.

Her parents throw their annual Christmas bash, where she meets one Luke Bennet, the smart, sardonic slacker son of their neighbor. Luke is 32 and has never left home. He's a carpenter and makes beautiful furniture, and is content with his simple life. He comes from a family of five brothers, each one less ambitious than the other. When Darcy and Luke fall into bed after too many eggnogs, Darcy thinks it's just another one night stand. But why can't she stop thinking of Luke? What is it about him? And can she fall in love, or will her pride and his prejudice against big-city girls stand in their way?

MELISSA DE LA CRUZ's next adult novel will be a sweet, sexy and hilarious gender-swapping, genre-satisfying re-telling of Pride and Prejudice, set in contemporary America and featuring one snooty Miss Darcy.
I received a copy of this title via NetGalley. It does not impact my review.
Pride and Prejudice and Mistletoe will be available October 17, 2017.
I love a good holiday romance and I love Pride and Prejudice re-tellings, so Pride and Prejudice and Mistletoe looked like it would be perfect for me. While it was a fun read, it ended up falling short of my (pretty high) expectations.
I loved the idea of a gender-swapped Pride and Prejudice. I can't think of any other re-tellings I've read that took that angle. I also like the idea of getting Darcy's POV instead of Elizabeth's (or Luke's, in this case). Unfortunately I felt like this was more of an "inspired by" then a true re-telling. If it wasn't for the names of the characters (Darcy Fitzwilliam, Bingley Charles, Luke Bennett) and the title of the book I'm not really sure if I would've even noticed that it was supposed to be a re-telling. That said, the story wasn't bad. It was a very quick and easy read and had many cute or funny moments.
Darcy was pretty unlikable, which was ok in the beginning because she was kind of supposed to be. However, I don't think she ever became more likable. Even though she was supposed to be this brilliant, successful woman, she was super immature and self-centered and kind of oblivious. There's several scenes where she explains how she's just super confident and driven, and not snobby or selfish, but honestly I just didn't buy it. I was rooting for her, though, and she did make some strides when it came to her family. Luke was more likable, but we actually don't get a lot of him. There is not very much time spent with Luke and Darcy together before they are officially together, so I had a hard time really shipping them as a couple. We do get more of them together in the end, which I liked.
One thing that does kind of bug me, which is not the book's fault, is that the synopsis sounds pretty different than the actual story. Darcy doesn't really date the type of guys mentioned, I don't recall a mention of multiple cell phones, and she comes home to see her mom, despite her estranged father and three brothers she's never really liked. Luke is described as less ambitious than Darcy, but I don't think he was ever referred to as a slacker. The "fall into bed" statement is also misleading. There were also some continuity issues within the story that bothered me. I'm hoping that those are just ARC issues, though, and will be ironed out in the finished copy.
Overall, Pride and Prejudice and Mistletoe was a cute, quick, and easy read. I loved the concept for the book even though it didn't quite live up to it's potential. I think hard core Pride and Prejudice fans will find it a little lacking, but if you're looking for a nice holiday romance I would recommend checking this out.
Overall Rating (out of 5): 3 Stars