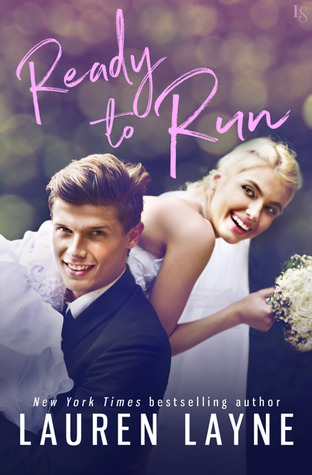 Synopsis from Good Reads:
The Bachelor meets The Runaway Bride in this addictive romance novel about a reality TV producer falling for her would-be star: a Montana heartthrob who wants nothing to do with the show.

Jordan Carpenter thinks she's finally found the perfect candidate for Jilted, a new dating show about runaway grooms: Luke Elliott, a playboy firefighter who's left not one but three brides at the altar. The only problem? Luke refuses to answer Jordan's emails or return her calls. Which is how she ends up on a flight to Montana to recruit him in person. It's not Manhattan but at least the locals in Lucky Hollow seem friendly . . . except for Luke, who's more intense—and way hotter—than the slick womanizer Jordan expected.

Eager to put the past behind him, Luke has zero intention of following this gorgeous, fast-talking city girl back to New York. But before he can send her packing, Jordan's everywhere: at his favorite bar, the county fair, even his exes' book club. Annoyingly, everyone in Lucky Hollow seems to like her—and deep down, she's starting to grow on him too. But the more he fights her constant pestering, the more Luke finds himself wishing that Jordan would kick off her high heels and make herself comfortable in his arms.
I received a copy of Ready to Run via NetGalley. It does not impact my review.
Ready to Run will be available August 22, 2017.
I really enjoyed Ready to Run! It was exactly the sweet, lighthearted book I needed right now.
Jordan and Luke were both really likable main characters. I enjoyed getting to know each of them and how their relationship progressed throughout the book. It was a little bit of hate-to-love, which I always think is fun. They had several funny and sweet moments between them and I shipped it. I also really liked Jordan's co-worker/BFF, Simon, and all the townspeople of Lucky Hollow. I'm originally from a small town myself, so I always enjoy reading about them.
I loved the concept of the Bachelor-esque reality show. I'm not really a fan of that type of show myself, but I do like other kinds of reality tv and I love behind-the-scenes type stories. I was slightly disappointed that this book didn't really have much in terms of behind-the-scenes, though. It was more early pre-production. It didn't take me long to get over the disappointment, though, once I got into the book and invested in Jordan and Luke.
Maybe it's because I've recently read a couple of mammoth-sized books, but I kind of felt like this one was too short. I thought that there was more that could have been explored – more quirky townsfolk, more funny/cute moments between Jordan and Luke before the romance progressed, more information about the show, more information on Luke's jilted brides,  more time spent on the heavier emotional topics (but not too much! I appreciated the lighthearted feel). I just enjoyed the story so much I wanted to spend more time with it. The only other thing I didn't really like were the sex scenes. There's only so much graphic detail I can take and still be able to take a book seriously and Layne's writing usually comes close to that line. I thought it was funny that in the "About the Author" section it says that "she writes romantic comedies with just enough sexy-times to make your mother blush." Just think of me as your more conservative mother.
Overall, I really enjoyed Ready to Run. I loved the concept and the characters and never wanted the story to end. I'm very anxiously looking forward to the next book in the series.
Overall Rating (out of 5): 4 Stars