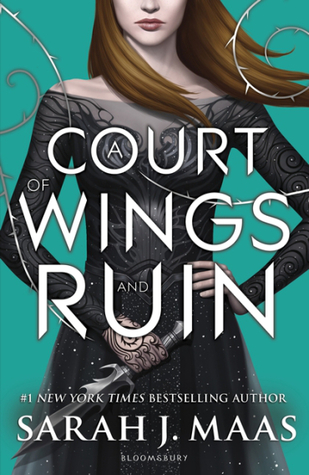 Synopsis from Good Reads:
Looming war threatens all Feyre holds dear in the third volume of the #1 New York Times bestselling A Court of Thorns and Roses series.

Feyre has returned to the Spring Court, determined to gather information on Tamlin's maneuverings and the invading king threatening to bring Prythian to its knees. But to do so she must play a deadly game of deceit-and one slip may spell doom not only for Feyre, but for her world as well.

As war bears down upon them all, Feyre must decide who to trust amongst the dazzling and lethal High Lords-and hunt for allies in unexpected places.

In this thrilling third book in the #1 New York Times bestselling series from Sarah J. Maas, the earth will be painted red as mighty armies grapple for power over the one thing that could destroy them all.
I've never been a super fan of this series, but I've liked it well enough to want to continue with each book and see what happens. It's kind of hard to review books that I don't feel strongly about one way or the other, so this will be a little abbreviated and list-like.
*BEWARE OF MILD SPOILERS*
-I had thought that I read this was supposed to be told in dual POV between Feyre and Rhys and I was pretty excited to get more Rhys. However, he gets the prologue and one chapter towards the end and the rest is Feyre. I don't really see what the point of that was. I don't feel like Rhys' chapters added anything to the story. I was definitely let down by this.
-This book was WAY TOO LONG. Towards the end of the book there was a lot more happening, but a great deal of it just seemed a little pointless. I think there are several storylines that could have been cut, or at least edited down some, and the book would have felt much better paced. But this has always been a problem I've had with Maas' writing.
-The romance isn't as big a part of the plot as the last book was, so this one being marketed as YA is not quite as horrifying to me as the last one was. I liked seeing Rhys and Feyre together and working as a unit. I'm glad that there wasn't really any relationship drama between them.
-We finally get an explanation from Mor on how she feels about Azriel and why she's been basically stringing him (and Cassian) along for 500 years or so. I thought it was really selfish. There is also romantic tension between Nesta and Cassian, but it's not resolved by the end of the book. Nor is anything resolved between Lucian and Elain and their mating bond. I felt a little bit that there could be something between Az and Elain, actually.
-I was happy to see Tamlin get some redemption. I've always felt a little bad for how Maas turned on this character after the first book (well before the first book was even over, really), so even though he still wasn't represented that well here, he still turned out better than I thought he would.
Overall, I felt like this was a pretty good end to Feyre's story. The series doesn't end with this book, but from what I understand the next books will focus on other characters in this world with Feyre and Rhys and company as cameos maybe? As I mentioned above, there are some romantic cliffhangers left that I hope get resolved in the future, even if it's just mentioned in passing. There is a lot of work that will need to be done with the fall out after the war that is still left pretty open-ended, as well. I don't really feel a need to continue on with this story since Feyre and Rhys won't be a big part of it, but it might be something I decide to read. I would definitely recommend this to fans of Maas and the series.
Overall Rating (out of 5): 3.5 Stars