In April my niece turned 2 and we all went to Canada to celebrate. I can't believe how much she's grown since we saw her last summer. It unfortunately took a little while for her to warm up to us – and she seemed to have to start over again every morning or after every nap, but we still had lots of fun with her. The rest of April seemed to pass by in a blur. Work gets steadily more depressing. I finally updated my resume and applied for a new job, but I got an e-mail the following day saying they weren't interested in "pursuing my candidacy". Oh, well.
Books Read: 10
Adult: 8
YA: 2
Favorite Book I Read This Month: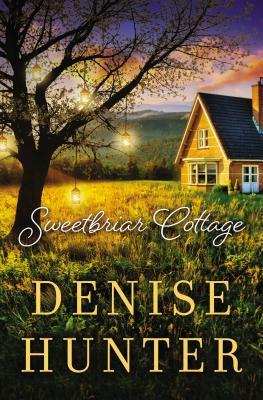 Sweetbriar Cottage by Denise Hunter. 4 Stars. Review coming in June.
Books Reviewed: 5
Alex, Approximately by Jenn Bennett – 3.5/5 Stars
The Perfect Stranger by Megan Miranda – 3.5/5 Stars
One Perfect Lie by Lisa Scottoline – 4/5 Stars
A Different Blue by Amy Harmon – 3.5/5 Stars
I Found You by Lisa Jewell – 4/5 Stars
Books Read in 2017 Overall: 48
Funny Fridays:
Other Posts:
Top Ten Tuesday: Things that will make me instantly want to read a book
Top Ten Tuesday: Things that will make me instantly NOT want to read a book
Top 5 Wednesday: Authors I Want to Read More From
Reviewing the Unreviewed: April 2017
Book News
Lux spin-off series by JLA announced
As I predicted in my review of Opposition (the last Lux series book), Luc is getting his Origins spin-off! It's a 3 book deal with the first installment coming out Fall of 2018. I'm super excited to see some Daemon and Katy cameos.
Famous in Love tv show debuts
I read Famous in Love when I heard it was being adapted to tv. Though I had my issues, I enjoyed the book (not so much the second one). So the show aired and…it's awful. Awful acting. Awful casting. Awful plot changes. I decided not to watch it again, but then it was announced that the whole season was available on demand, in addition to it's weekly airings, so I thought I'd go ahead and give it another try and binge it. It's kind of the trainwreck you can't look away from. I feel like I could rant about all the changes it made from the books, so I might do a post about it soon.
More Shatter Me books
When I finished Ignite Me, I was happy with the ending, but I thought there could be more story to tell. Turns out I was right, because there are three more books coming to the Shatter Me series. And to really get you excited about it, they will be told in dual POV between Juliette AND Warner. Let the swooning begin.
Looking Forward to May:
My reviews for Seeking Mansfield and The Names They Gave Us will post (one is pretty favorable, the other not so much). There are a few books being published that I'm looking forward to: When Dimple met Rishi, Flame in the Mist, A Court of Wings and Ruin, and Sons of Ares. Looks like it's going to be a good month for YA.