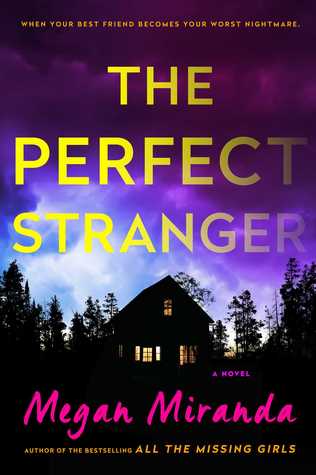 Synopsis from Good Reads:
In the masterful follow-up to the runaway hit All the Missing Girls, a journalist sets out to find a missing friend, a friend who may never have existed at all.

Confronted by a restraining order and the threat of a lawsuit, failed journalist Leah Stevens needs to get out of Boston when she runs into an old friend, Emmy Grey, who has just left a troubled relationship. Emmy proposes they move to rural Pennsylvania, where Leah can get a teaching position and both women can start again. But their new start is threatened when a woman with an eerie resemblance to Leah is assaulted by the lake, and Emmy disappears days later.

Determined to find Emmy, Leah cooperates with Kyle Donovan, a handsome young police officer on the case. As they investigate her friend's life for clues, Leah begins to wonder: did she ever really know Emmy at all? With no friends, family, or a digital footprint, the police begin to suspect that there is no Emmy Grey. Soon Leah's credibility is at stake, and she is forced to revisit her past: the article that ruined her career. To save herself, Leah must uncover the truth about Emmy Grey—and along the way, confront her old demons, find out who she can really trust, and clear her own name.

Everyone in this rural Pennsylvanian town has something to hide—including Leah herself. How do you uncover the truth when you are busy hiding your own?
I received a copy of this title from NetGalley. It does not impact my review.
The Perfect Stranger will be available April 11, 2017.
I think I went into The Perfect Stranger with the wrong expectations. I thought it was going to be really suspenseful and have a big twist. I spent my time trying to figure out what the big twist would be and I think in the process the smaller twists and turns of the story were not fully appreciated. This was a good mystery, but I still find myself slightly disappointed at the lack of thrill and suspense.
The book focused a lot on character development and thus the pace seemed a little slow to me. Don't get me wrong, I love a well-done character driven story and this definitely fits that description, but again, I wanted suspense and a quicker pace. While I wouldn't categorize some passages as flashbacks, there is a lot of Leah explaining events from her past and things are revealed to the reader slowly. While I felt this was done effectively, the reveals were never really shocking enough to pull my focus off The Big Twist I was (mistakenly) waiting for. I think if you go into this just expecting what the synopsis tells you, you will find this a well done mystery.
I thought Leah was a pretty compelling character. Though the story is told from her 1st person POV, I never really felt like I could get a handle on her. Is she telling the truth? Is she just super paranoid? Is she secretly a sociopath? Is she in danger. Is she the danger? I still don't know if I can say she was a likable character, but I don't think that's the point. The other characters were interesting, but I don't feel like we got to know any of them well enough to really care about them one way or the other. I thought the relationship between Leah and Kyle was kind of messed up, but I can also see why it would work.
Overall, The Perfect Stranger was a good mystery, but I was left a little disappointed that it wasn't as suspenseful or shocking as I was expecting. The mystery of Leah trying to figure out the truth about Emmy and the murders was well done, but there were some other side plots that I felt there were loose ends on. I found the ending a little anti-climactic, as well, and would have appreciated an epilogue. I do think fans of character-driven mysteries would really enjoy it, though, as long as that's what they are expecting.
Overall Rating (out of 5): 3.5 Stars