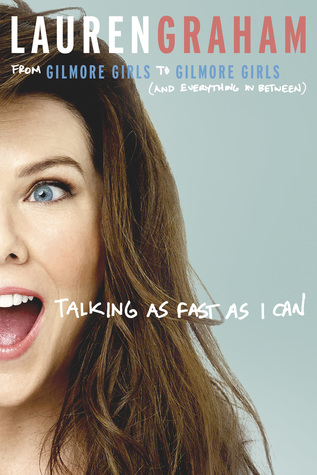 Synopsis from Good Reads:
In this collection of personal essays, the beloved star of Gilmore Girls and Parenthood reveals stories about life, love, and working as a woman in Hollywood—along with behind-the-scenes dispatches from the set of the new Gilmore Girls, where she plays the fast-talking Lorelai Gilmore once again.

In Talking as Fast as I Can, Lauren Graham hits pause for a moment and looks back on her life, sharing laugh-out-loud stories about growing up, starting out as an actress, and, years later, sitting in her trailer on the Parenthood set and asking herself, "Did you, um, make it?" She opens up about the challenges of being single in Hollywood ("Strangers were worried about me; that's how long I was single!"), the time she was asked to audition her butt for a role, and her experience being a judge on Project Runway ("It's like I had a fashion-induced blackout").

In "What It Was Like, Part One," Graham sits down for an epic Gilmore Girls marathon and reflects on being cast as the fast-talking Lorelai Gilmore. The essay "What It Was Like, Part Two" reveals how it felt to pick up the role again nine years later, and what doing so has meant to her.

Some more things you will learn about Lauren: She once tried to go vegan just to bond with Ellen DeGeneres, she's aware that meeting guys at awards shows has its pitfalls ("If you're meeting someone for the first time after three hours of hair, makeup, and styling, you've already set the bar too high"), and she's a card-carrying REI shopper ("My bungee cords now earn points!").

Including photos and excerpts from the diary Graham kept during the filming of the recent Gilmore Girls: A Year in the Life, this book is like a cozy night in, catching up with your best friend, laughing and swapping stories, and—of course—talking as fast as you can.
I don't read a lot of non-fiction, but when I do I go for, as I call them, Funny Lady Memoirs. Tina Fey, Amy Poehler, Mindy Kaling, Amy Schumer. While there were definitely things I enjoyed from each of their books, Lauren Graham's Talking as Fast as I Can: From Gilmore Girls to Gilmore Girls, and Everything in Between is by far my favorite. I have loved Lauren Graham as a long time fan of Gilmore Girls and reading this book just made me love her even more. I loved that while there was a lot more to the book than Gilmore Girls and Parenthood, there were dedicated sections to each show and even though I didn't get any great inside scoop, I was able to tell how much these shows mean to her and that she's happy to be connected with them.
Some fun things I learned:
-Lauren Graham was attached to another show when she was cast in Gilmore Girls and if that show had been renewed for a second season she never would have been Lorelai Gilmore.
-Lauren and Alexis Bledel (Rory) didn't meet until after they were both cast in the show.
-While Gilmore Girls is famous for it's super long scripts (due to how fast they talk!), Parenthood's dialogue wasn't as strict and allowed for a lot more "collaboration." Which I think proves my theory that instead of lines, the script just directs them to "Stutter and Cry."
-Lauren and her Parenthood daughter Mae Whitman are producing partners and sold an adaption of The Royal We (one of my favorite reads of 2016), which Lauren is writing. **I tried to find info for this on IMDB, but couldn't, so I'm not sure what the status is, but I'm very excited for this!** She is also writing a second novel, but not a lot of details on that yet.
-**Mild spoiler for the Gilmore Girls reboot** When Lauren found out the Final Four Words, she didn't think it was an ending, but a cliffhanger. Every time she mentions that to the creator of the show, Amy Sherman-Palladino just smiles. So maybe more Gilmore Girls to come?
Overall
Overall, I really enjoyed Talking as Fast as I Can. I liked that Graham didn't seem to take herself too seriously and the whole book had such a fun feeling to it. While the parts about Gilmore Girls and Parenthood were obviously my favorites, I really enjoyed the other sections about her childhood, college, starting out as an actor, and her relationship, among other things, my favorite being a really interesting chapter where she shared some writing advice that she received. After reading this book I want even more to be best friends with her. If you are a Lauren Graham fan, this is a Must Read.
Overall Rating (out of 5): 4 Stars