I saw Deanna over at A Novel Glimpse do this tag and thought it seemed better than the mid-year post I was thinking about doing, so I decided to tag myself for it.
Best Book You've Read Yet in 2016.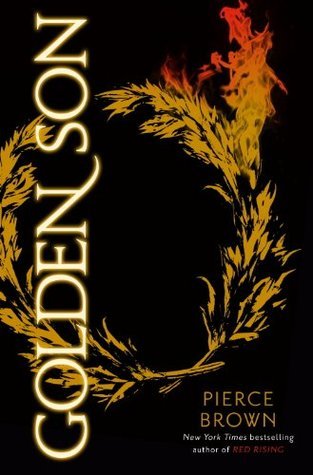 Golden Son (Red Rising #2) by Pierce Brown.
I think the 2nd book in this series is my favorite because it's here that it separates itself from The Hunger Games comparisons, it's action-packed (which I normally am not a huge fan of, but LOVED it here), had a billion surprises and twists throughout, and also really brought the emotion. This book is probably the closest I've ever gotten to rating a book 5 stars on my blog.
Best Sequel You've Read So Far in 2016.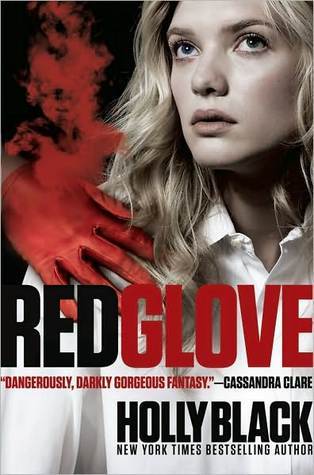 Red Glove (Curse Workers #2) by Holly Black.
Ok, so obviously Golden Son would be this answer, too, since it's a sequel and it's my favorite…but Red Glove was also an exceptional sequel. I thought it was much better than the first book and I really enjoyed it.
New Release You Haven't Read Yet But Want To.
The Power (Titan #2) by Jennifer L Armentrout (published 2/23/16)
Seth is one of my favorite JLA characters and I was really looking forward to this…but I just haven't gotten to it yet. I've been waiting for it to come to the library, but it hasn't yet.
Most Anticipated Release for the Second Half of the Year.
Crooked Kingdom (Six of Crows #2) by Leigh Bardugo
Six of Crows was one of my top three books of 2015 and I'm soooo excited fort the sequel. I love the characters so much and can't wait to see what happens. You can read a sneak peak of it here!
Biggest Disappointment.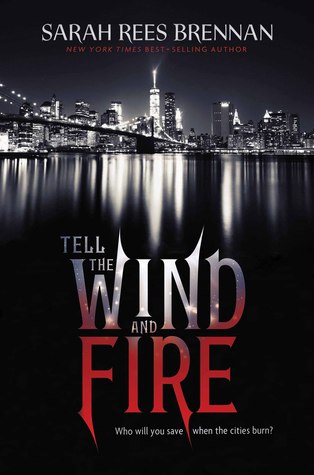 Tell the Wind and Fire by Sarah Rees Brennan
After completely falling in love with Brennan's Lynburn Legacy series, I was so looking forward to reading more from her, but I found myself pretty disappointed with this book. The quick-witted humor and banter that I had come to expect from Brennan was missing. Perhaps I would have liked this better if I had read A Tale of Two Cities?
Biggest Surprise.
The Royal We by Heather Cocks and Jessica Morgan
Despite having this on my TBR for a long time, I wasn't really expecting anything from it, but I really, really enjoyed it! While it does have some cheesy moments, it had excellent character development and a whole lot more emotional depth than I was expecting.
Favorite New Author.
Pierce Brown
I am completely blown away by Pierce Brown's writing. Despite not really being a fan of sci-fi or action, his Red Rising series has become one of my favorite series of all time. I will read anything this man ever writes. And you should, too.
Newest Fictional Crush.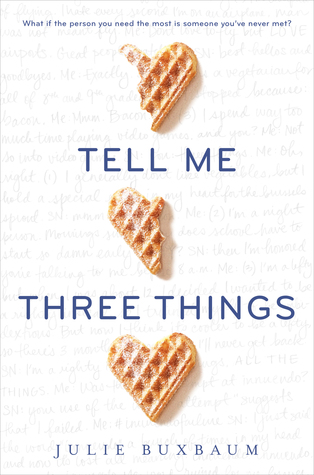 Somebody Nobody (and his real life self) in Tell Me Three Things by Julie Buxbaum
I won't tell you the character's actual name because it's a spoiler (even though you can probably guess who it is within the first couple chapters), but I love his quick wit and his vulnerability, and that he's always there for Jessie (even if he's not physically there for much of it)
Newest Favorite Character.
Cassel from the Curse Workers series.
He's smart, funny, and so sarcastic. He's just a fun, cool character to read about.
Book That Made You Cry.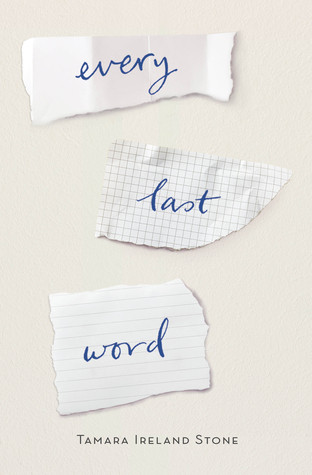 Every Last Word by Tamara Ireland Stone
I don't think the average person will cry at this, but I identified SO MUCH with the main character and so many of her struggles. I honestly think I have some undiagnosed OCD, which just makes so much more sense of my life.
Book That Made You Happy.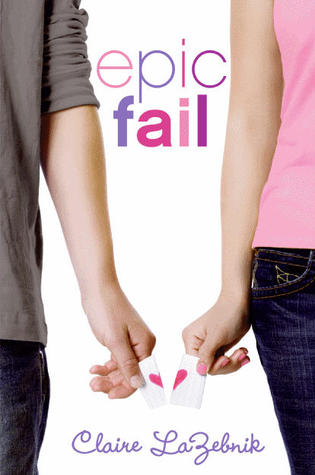 Epic Fail by Claire LaZebnik
This is a super cute Pride and Prejudice re-telling. Nothing spectacular, but it was fun to read.
Favorite Book to Film Adaptation.
The only ones I can think of that I've watched this year are Mockingjay Part 2, which was my least favorite one in the series, unfortunately, and The Convenient Groom (on Hallmark) which was so different than the book that I had a hard time enjoying it.
Favorite Post You Have Done This Year.
This year has not been a great blogging year for me so far, but I have managed a couple of original posts
Love Stinks: Toxic and Unbearable Relationships in Fiction
This Book is Making me Nervous – Novels that Feature Characters with Anxiety Disorder
Most Beautiful Book You've Bought This Year.
Morning Star (Red Rising #3) by Pierce Brown
Because I'm using the purchase of books as weight loss rewards, I've only bought a handful so far this year and this has been the best (both the cover and what's on the inside)
What Books Do You Need to Read by the End of the Year.
One True Loves by Taylor Jenkins Reid
Among the Wicked (Kate Burkholder #8) by Linda Castillo
The Kept Woman (Will Trent #8) by Karin Slaughter
P.S. I Like You by Kasie West
Crooked Kingdom by Leigh Bardugo
Heartless by Marissa Meyer
Truly Madly Guilty by Liane Moriarty
Feel free to tag yourself if you'd like to participate