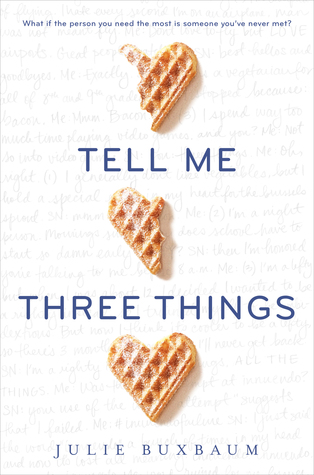 Synopsis from Good Reads:
Everything about Jessie is wrong. At least, that's what it feels like during her first week of junior year at her new ultra-intimidating prep school in Los Angeles. Just when she's thinking about hightailing it back to Chicago, she gets an email from a person calling themselves Somebody/Nobody (SN for short), offering to help her navigate the wilds of Wood Valley High School. Is it an elaborate hoax? Or can she rely on SN for some much-needed help?

It's been barely two years since her mother's death, and because her father eloped with a woman he met online, Jessie has been forced to move across the country to live with her stepmonster and her pretentious teenage son.

In a leap of faith—or an act of complete desperation—Jessie begins to rely on SN, and SN quickly becomes her lifeline and closest ally. Jessie can't help wanting to meet SN in person. But are some mysteries better left unsolved?

Julie Buxbaum mixes comedy and tragedy, love and loss, pain and elation, in her debut YA novel filled with characters who will come to feel like friends.
Three Things:
(1) I really, really enjoyed reading this book!
(2) The format of this review is extremely unoriginal.
(3) I don't know why, but I really love the cover of this book and am really happy that it ties into the story. Though also oddly disappointed that it's not a bigger role.
Three More Things:
(1) I loved the banter in this book. It was so fun and witty and kept me smiling throughout so much of it. I loved the e-mail/texting/IM formatting and honestly wouldn't have minded if the whole thing was written like that. While I think that shifting to texting/IM-ing made sense, I did miss seeing the e-mail subject lines, as they were pretty funny, too.
(2) While there was a lot of fun banter, the other half of the book was pretty heavy. While the banter did a good job of helping balance out the heavy, I don't think it was done as effectively as it could have been. It would be all fun and texting one page and the next was a lot of introspective moments of grief. The transitions were a little jarring at times.
(3) The family aspect of this book was lacking for me. While things start to get better by the end, I really didn't care for any of the parental figures in this book. I thought the blended family aspect would play a bigger factor in the story, but it was mostly used to give Jessie one more thing to be upset over.
Another Three Things:
(1) Jessie is dealing with a lot, though – the loss of her mother, moving away, new step-mother and step-brother, new school, new friends, mean girls, bullying, absent father. I mean, the list goes on. Plus, she's only 16, so if she spends a good deal of the book feeling sad and lonely and a little self-indulgent, I can excuse it. There was actually a lot of Jessie that I could identify with and even though I didn't always love how she handled something, she was a likable character and she did really grow throughout the book.
(2) I love the Anonymous E-mailer, Somebody Nobody. This could have been creepy, but I'm just going to blow right by that and go for how cute it was. Because it was cute. Though, was I supposed to be surprised by SN's real identity? Because as soon as his character was introduced he was my guess on who it was and I just became more convinced as the story went on. Like, it couldn't have been anyone else. And while I wouldn't have minded if it was revealed to Jessie before the final chapter, I was ok with it. I shipped it.
(3) I don't really feel like I can mention any of the guys/potential love interests without giving away SN's identity. So I'll just say, I think you will be satisfied with the romantic portion of the story.
Overall, I really enjoyed Tell Me Three Things. It was such a cute story with fun, witty banter that I couldn't get enough of. And while I didn't always think the heavier moments were well balanced, they did seem raw and relatable and in that regard, was well done. This is definitely a YA Contemporary I would recommend. I already want to read it again.
Overall Rating (out of 5): 4 Stars