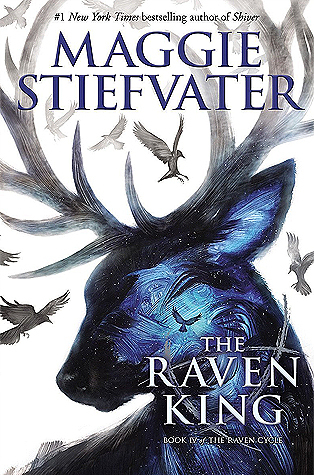 Synopsis from Good Reads:
The fourth and final installment in the spellbinding series from the irrepressible, #1 New York Times bestselling author Maggie Stiefvater.

All her life, Blue has been warned that she will cause her true love's death. She doesn't believe in true love and never thought this would be a problem, but as her life becomes caught up in the strange and sinister world of the Raven Boys, she's not so sure anymore.

In a starred review for Blue Lily, Lily Blue, Kirkus Reviews declared: "Expect this truly one-of-a-kind series to come to a thundering close."
When I think of The Raven Cycle, I think of two things: 1) Some of my favorite characters that I have ever read (and I've read a lot) and 2) One of the most confusing and strange storylines I have ever read (and I've read a lot). The Raven King is no exception.
I was really going to try to write this without any spoilers, but it proved to be unavoidable. They won't be super descriptive spoilers, but if you want to read this without any idea what happens, I would stop reading here (and feel free to come back later!).
***BEWARE OF SPOILERS***
-I was hoping that things would finally all come together and make sense in this final installment, but it did not. There were a few revelations that were interesting and did make sense of a couple things, but there was a lot more that was just confusing. And strange.
-Henry Cheng, who had a few moments with our Raven Boys in the previous book, joined the gang in this book. At first I was slightly annoyed that there was a new character introduced so late in the game and I think the role he played could have probably been taken on by an existing character, but he is a character from the mind of Maggie Stiefvater, a character that Blue and the Raven Boys have come to know and like, so I obviously came to like him, too. I loved his sense of humor and he was a good addition to the team. I found myself a little sad that he wasn't around much before.
-Ships. Gansey and Blue finally stop hiding their relationship (though it wasn't exactly a surprise to anyone) and for those of you who don't like romantic storylines, don't worry, because it doesn't really change the dynamic of any of the relationships. There are a few cute moments between them, though. Ronan and Adam shippers will be quite happy, I think. I've never really shipped them (I'm still not sure if I can buy into it to be honest), but I must admit there were a few good shippable moments between them.
-The end of the search for Glendower was quite disappointing. I was surprised that after all the build up, it was so anti-climactic. Of course, there were other things going on, other reasons for Gansey to be where he needed to be, but I felt like the storyline switched it up too much at the end. Of course, the storyline has never made sense to me anyways, so…I guess it's ok?
-I didn't really understand what was up with Noah. He wasn't in the book as much as I would have liked, but he did have one big moment/revelation that was good (though I had to read it a couple times to understand what was happening – and I'm still a bit confused!).
-Artemus' backstory was kind of…different? Blue's part tree? Kind of? I'm choosing to just kind of ignore this part of the story…
-So we've known since book one that Gansey is supposed to die. We've all had theories about it. I'll just say your theory about what goes down is probably close to right.
-I didn't like that there was nothing in the Epilogue about Maura, Calla, and the rest of the Fox Way women, Artemus, or Mr. Grey.
-I love the core characters and I feel good about how we leave each of them in this finale. We don't get definitive "this is what she/he does in the future" scenarios, but we get a glimpse of what's next for them and hope for their future. All of these characters have grown so much since the beginning of the series and I'm really going to miss them!
Overall, this was a good ending to the series. It disappointed me just a little that it still didn't make much sense to me, but it stays true to the books that came before it and really, I read this series for the characters and there were tons of great character development throughout the whole thing. I'm sad to see the series end and it will be one that I will re-read many times in the future.
Overall Rating (out of 5): 4 Stars