Synopsis from Good Reads:
Four months have passed since the shadow stone fell into Kell's possession. Four months since his path crossed with Delilah Bard. Four months since Rhy was wounded and the Dane twins fell, and the stone was cast with Holland's dying body through the rift, and into Black London.

In many ways, things have almost returned to normal, though Rhy is more sober, and Kell is now plagued by his guilt. Restless, and having given up smuggling, Kell is visited by dreams of ominous magical events, waking only to think of Lila, who disappeared from the docks like she always meant to do. As Red London finalizes preparations for the Element Games—an extravagant international competition of magic, meant to entertain and keep healthy the ties between neighboring countries—a certain pirate ship draws closer, carrying old friends back into port.

But while Red London is caught up in the pageantry and thrills of the Games, another London is coming back to life, and those who were thought to be forever gone have returned. After all, a shadow that was gone in the night reappears in the morning, and so it seems Black London has risen again—meaning that another London must fall.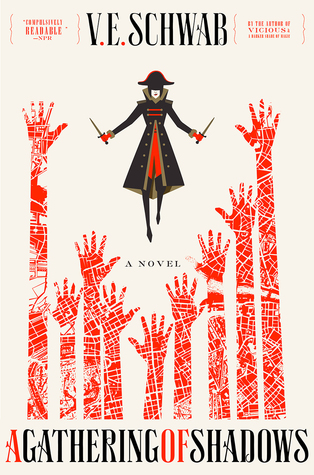 This book is another perfect example of how hype can ruin something for you. I didn't love the first book in this series like so many others did, but I liked it fine. When I read other reviews for this book (ALL glowing, ALL saying it's even better than the first), I bought into the hype and I find myself severely disappointed in the outcome. Don't get me wrong, it's a perfectly fine book. But I feel like this review is going to focus much more on why all the hype is wrong than on what was good about it, just because the hype let me down.
*SPOILER*SPOILER*SPOILER*
So here's a synopsis: Rhy is kind of mad he's alive. Kell is kind of mad he's trapped. Lila is learning magic from a pirate/privateer. White London is changing because Black London is helping it out, but it really wants Red London. There's a magical dueling competition. Kell pouts and puts everyone in danger. Lila thinks she can help and she – abrupt cliffhanger. THE END.
In between is a lot of Lila being selfish and stupid.
***END OF SPOILER***
-Ok, so before we get to what was wrong, let's focus on what was good. The writing is really top notch. It's so good that for the first couple hundred pages it completely distracted me from the fact that NOTHING WAS HAPPENING. The writing was good enough to make up for a lot of my problems with this book and is why I'm giving it three stars instead of something lower.
-Other reviews made me think that I would absolutely fall in love with Alucard, but he fell extremely short of my expectations. Don't get me wrong, I liked him. He's clever and sarcastic and charming and slightly tortured. But I just liked him and didn't love him like I thought I would.
-I loved getting more of Rhy and I loved how much Rhy and Kell together we got. They were my favorite relationship from the first book and they continue to be my favorite relationship. I would have liked to have seen even more of them, though. I felt like the majority of the POVs were given to Lila…
-…And I really, really dislike Lila. I didn't like her in the first book, though she grew on me towards the end. In this installment I didn't mind her in the beginning, but as time went on her selfishness and recklessness just made me ANGRY. I do not find her in any way likable or relatable and by about halfway through the book I found myself wishing the author would kill her off. (That's right, I said it.)
-For the sake of fiction and fantasy, I can read books about Greek gods and witches and magic and etc, even though I obviously don't believe in those things. In this book the vast majority worship magic. So, ok, not cool for me, but it's fantasy, so whatever. What really bothered me, though, were the several times the characters straight up mocked Christianity. I found it offensive and unnecessary.
–Overall, this book was fine, but I think all the glowing 5 star reviews I've read about it kind of ruined it for me. I really enjoyed the beginning and I started to enjoy it again towards the end, but the slow pace and lack of plot development made me really have to push myself through the middle. The writing is fantastic, though, and if you loved the first book, you'll probably feel similar about this one. Though I know it doesn't sound like I liked this book all that much, I do plan on continuing the series in the future.
Overall Rating (out of 5): 3 Stars