Synopsis from Good Reads:
After the screen of a run-down drive-in movie theater collapses and kills four people, the daughter of one of the victims asks private investigator Cal Weaver to look into a recent break-in at her father's house. Cal discovers a hidden basement room where it's clear that salacious activities have taken place—as well as evidence of missing DVDs. But his investigation soon becomes more complicated when he realizes it may not be discs the thief was actually interested in….

Meanwhile, Detective Barry Duckworth is still trying to solve two murders—one of which is three years old—he believes are connected, since each featured a similar distinctive wound.

As the lies begin to unravel, Cal is headed straight into the heart of a dark secret as his search uncovers more startling truths about Promise Falls. And when yet another murder happens, Cal and Barry are both driven to pursue their investigations, no matter where they lead. Evil deeds long thought buried are about to haunt the residents of this town—as the sins of the past and present collide with terrifying results.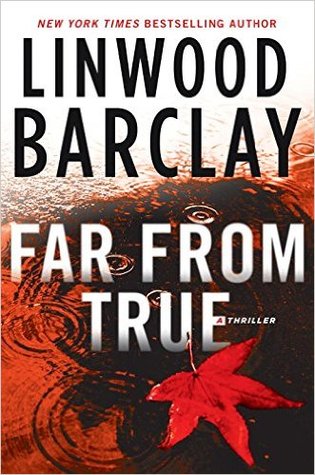 I received a copy of this title from NetGalley. It does not impact my review.
For anyone that follows my blog, you know that Linwood Barclay is my Favorite Mystery/Suspense author and he does not disappointment in this second installment of the Promise Falls series! While the first book in the series, Broken Promise, featured mostly David Harwood (originally from Never Look Away), Far From True, features several characters, but the only 1st Person POV privilege is given to private investigator Cal Weaver (from A Tap on the Window). I love the way Barclay incorporates familiar characters, which is fun for his faithful readers, but new readers won't be lost because the characters are continuously developing and growing (and finding more trouble to get mixed up in).
While I was a little disappointed there wasn't as much David Harwood as the first book, we still see enough of him to keep him a major player in the book. I liked seeing Cal Weaver again and Detective Duckworth just gets better for me every time I see him. I loved his interactions with his wife, especially when they were at meals. It provided some much needed humor/light-hearted moments.
There are a lot of POVs and storylines to follow in this book. While I don't think every author could pull this off, Barclay makes it work. There was never a dull moment and I was invested enough in each of the storylines that I was never upset when it was time for a POV shift. There were mysteries and storylines from the first book continued in this one, along with some new mysteries and twists introduced that may have implications to some of the ongoing investigations. While we do get some answers and clues, there are also more questions and unresolved mysteries that will continue on into the next installment, which I am very anxious for.
Overall, I really enjoyed Far From True. It has great, well-developed characters, intriguing mysteries, and is very smartly written. I definitely recommend the Promise Falls series to fans of Mystery and Suspense and to fans of Linwood Barclay.
Overall Rating (out of 5): 4 Stars