Synopsis from Good Reads:
Darrow would have lived in peace, but his enemies brought him war. The Gold overlords demanded his obedience, hanged his wife, and enslaved his people. But Darrow is determined to fight back. Risking everything to transform himself and breach Gold society, Darrow has battled to survive the cutthroat rivalries that breed Society's mightiest warriors, climbed the ranks, and waited patiently to unleash the revolution that will tear the hierarchy apart from within.

Finally, the time has come.

But devotion to honor and hunger for vengeance run deep on both sides. Darrow and his comrades-in-arms face powerful enemies without scruple or mercy. Among them are some Darrow once considered friends. To win, Darrow will need to inspire those shackled in darkness to break their chains, unmake the world their cruel masters have built, and claim a destiny too long denied – and too glorious to surrender.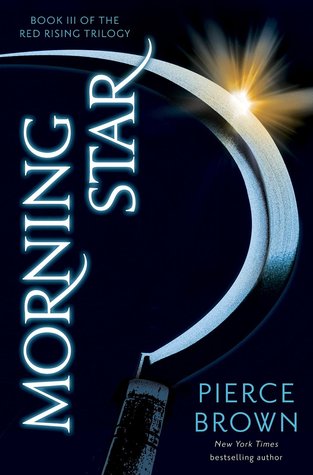 This book. It broke my heart so many times, yet still managed to leave me smiling (through the tears, but hey).
Morning Star does not have the frenetic pace that Golden Son had before it. Though there are plenty of battle scenes and action, this book is focused so much more on character development. While it didn't have quite as many shocks and surprises as the first two books, I can't be too upset about that because the character growth was just phenomenal (and let's be real, good character development is what I crave from all my books).
One of the things I have come to appreciate most from Brown's writing is his ability to surprise me over and over again. As I said above, this book doesn't have quite as many surprises for me, but it still had a few (or maybe I'm just getting better at guessing them earlier?). There was one big event that shocked me and then made me immediately think (hope), "Oh, that's a misdirect." But then the chapters went on…and let's just say the writing will always keep you on your toes.
Sevro, my little Goblin, has always been one of my favorite characters and in this book he's given much more page time. He's definitely been feeling the pressure of keeping things going after the heartbreaking events of Darrow's Triumph and let's just say he hasn't exactly handled it very well. I went from loving him, to being really annoyed with him, to wanting to just hug him, to loving him again. He remains the comic relief when things get heavy, but he also confronts his emotions in a way we haven't really seen from him before. My Howler heart will always be his.
In any book with war there are many deaths and Brown has never pulled any punches when it comes to killing off some of my favorite characters. Morning Star is no exception. I may have shed a few tears and yelled, "Screw you, Pierce Brown!" on more than one occasion.
It's been a long time since a series has had such an emotional impact on me. I don't even know why. It has beautiful writing, despite the blood and the death and the horror. It's just beautiful. And it's clever. And the characters! They were flawed and empathetic and I just loved so many of them. Darrow was an amazing protagonist that made me laugh, broke my heart, made me cheer, and made me hope. The deaths of some of his friends and allies (and even some enemies) made me tear up (and occasionally shed a few) and when I wasn't reading about these characters, I was thinking of them. And I think that's really the mark of a great book. When the characters and the stories live with you, outside of the pages.
Overall, Morning Star was a bloodydamn great ending to the series. While it didn't have quite the same "fun factor" as the first two books did for me, it made up for it in the characters, the emotion, and satisfying conclusion. This series will go down as one of my favorites of all time and will be one I read again and again. If you haven't read it yet, you really need to.
Overall Rating (out of 5): 4.5 Stars