Synopsis from Good Reads:
With shades of The Hunger Games, Ender's Game, and Game of Thrones, debut author Pierce Brown's genre-defying epic Red Rising hit the ground running and wasted no time becoming a sensation.

Golden Son continues the stunning saga of Darrow, a rebel forged by tragedy, battling to lead his oppressed people to freedom from the overlords of a brutal elitist future built on lies. Now fully embedded among the Gold ruling class, Darrow continues his work to bring down Society from within.

A life-or-death tale of vengeance with an unforgettable hero at its heart, Golden Son guarantees Pierce Brown's continuing status as one of fiction's most exciting new voices.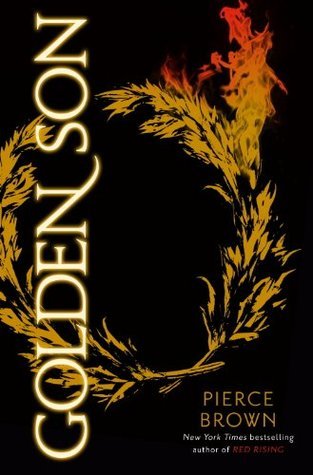 It's not often that the sequel is better than the original, especially when the first is so good. But Golden Son did it. I loved pretty much every moment of this book. And then the end completely destroyed me.
I thought that Red Rising was intense, but Golden Son really ratchets up the pace, the action, and the stakes. There is just so much that happens in this book. Brown's writing continues to impress me, utilizing the same style of small surprises and twists throughout the story that made me fall in love with the first book. There were so many times that something happened that disappointed me and then a few pages later it's all revealed as part of the plan.
She balked at my plan in public, then then again, that was all our design. Plans within plans within plans.
The writing is just so clever. I found myself smiling through so much of this book just because I thoroughly enjoyed being surprised by things. So many books I read are so incredibly predictable, but that is not something I can ever say of this one. Even when some event happened that I might have predicted, it happened in a way I didn't expect, or had unexpected results.
I love the characters in this book. They are well developed and all serve a purpose. A lot of old friends (and enemies) from the Institute return and I loved seeing how the relationships evolved in the real world. I loved meeting Pax's family and, of course, seeing more of my favorite Howler, Sevro. We finally get to meet Ares, the head of the revolution, and I loved the reveal. I have to say it completely surprised me, but it made sense.
It's hard to find any fault in this book, but I have to say the one aspect of the story that lacks for me is the romance. I don't dislike Mustang, but I've never particularly liked her. I understand the friendship and even partnership between her and Darrow, but I'm not completely sold on their chemistry. I get that Darrow needs something else to live for besides the revolution, but a part of me almost wishes there was no romance in this book past Eo.
Overall, I just really loved Golden Son. It's so well written and I really enjoyed reading about Darrow and all the strides he made for the revolution. Even though it was fun to read and had many humorous moments along the way, this isn't exactly a happy book. The end of the book completely destroyed me and makes me so eager for the next book! While I can't really believe it's taken me so long to pick up this series, I am so happy that I do not have a long wait for Morning Star.
Overall Rating (out of 5): 4.5 Stars