Synopsis from Good Reads:
If you could read my mind, you wouldn't be smiling.

Samantha McAllister looks just like the rest of the popular girls in her junior class. But hidden beneath the straightened hair and expertly applied makeup is a secret that her friends would never understand: Sam has Purely-Obsessional OCD and is consumed by a stream of dark thoughts and worries that she can't turn off.

Second-guessing every move, thought, and word makes daily life a struggle, and it doesn't help that her lifelong friends will turn toxic at the first sign of a wrong outfit, wrong lunch, or wrong crush. Yet Sam knows she'd be truly crazy to leave the protection of the most popular girls in school. So when Sam meets Caroline, she has to keep her new friend with a refreshing sense of humor and no style a secret, right up there with Sam's weekly visits to her psychiatrist.

Caroline introduces Sam to Poet's Corner, a hidden room and a tight-knit group of misfits who have been ignored by the school at large. Sam is drawn to them immediately, especially a guitar-playing guy with a talent for verse, and starts to discover a whole new side of herself. Slowly, she begins to feel more "normal" than she ever has as part of the popular crowd . . . until she finds a new reason to question her sanity and all she holds dear.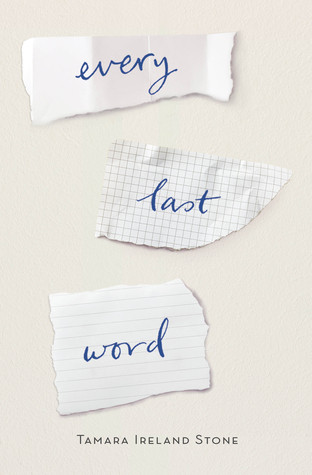 I don't think there's ever been a book that I've felt like when I was reading it, I was reading about myself, more than this one. Which surprised (and concerned) me, as I've never been diagnosed with any type of OCD (purely obsessional or otherwise), but, man… The thought-spirals, the need to research or just know, 3's – in addition to the anxiety attacks…so much of this book was me. Some of it to a much smaller extent than Sam and some of it not at all, but for the most part I really identified with Sam when she was dealing with her disorder. Almost to the point where I don't feel I can properly review the rest of the book because it made such an emotional impact on me.
I really liked the relationships in this book. Sometimes you are friends with someone your whole life, but more often than not, there comes a time when you grow in different directions and I liked that authenticity in Sam's relationship with her initial clique, The Eight. The one thing I didn't like about their friendship was that it was not developed enough to give me a reason why I should care if they stay friends or not. Basically all we know about them is that they're the Mean Girl clique and they've been friends since kindergarten.  I did really liked watching her friendships develop with those in the Poet's Corner, though, especially Caroline and AJ.
I thought that AJ was very good for Sam and I really liked watching them journey from Not-Friends to Friends to More. While I thought that once they became "more" things escalated a little too quickly, I was overall a fan of the romance.
There were two things that didn't exactly work for me in the book, though. While I appreciate the role poetry plays in this story (it's a big one!), I didn't really appreciate the poetry itself. I've never really understood poetry – especially when poems don't rhyme. Then there's a big plot twist that I didn't see coming until right before it was revealed and it really did shock me. However, while it worked, the aftermath of it I thought could have been executed a little better. There was a big shift in Sam's mental health that I think really needed addressed and I thought her therapist was a little too "no big deal" about it.
Overall, I really, really liked Every Last Word. I really identified with Sam and enjoyed watching how she made positive changes in her life throughout the book. I liked the relationships and the cute romance and I'm really glad that I gave this one a chance. I definitely recommend it.
Overall Rating (out of 5): 4 Stars