Synopsis from Good Reads:
In this special eBook version, experience OBSIDIAN, ONYX, and OPAL as told by Daemon Black…


I knew the moment Katy Swartz moved in next door, there was going to be trouble. Lots of it.

And trouble's the last thing I need, since I'm not exactly from around here. My people arrived on Earth from Lux, a planet thirteen billion light years away. Plus, if there's one thing I know, it's that humans can't be trusted. We scare them. We can do things they only dream about, and honestly, we make them look weak as hell. 'Cuz they are.

But Kat is getting to me in ways no one else has, and I can't stop myself from wanting her—or wanting to use my powers to protect her. She makes me weak, and I'm the strongest of our kind, tasked with protecting us all. So this one simple girl…she can mean the end for us. Because the Luxen have an even bigger enemy—the Arum, and I need to stay on my game.

Falling for Katy—a human—won't just place her in danger. It could get us all killed, and that's one thing I'll never let happen…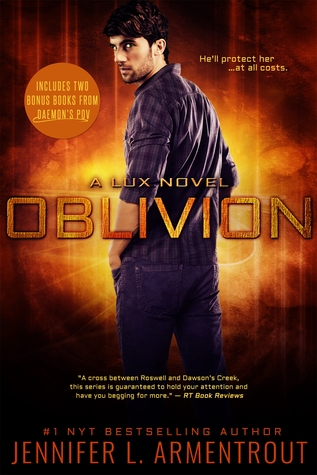 Oh, how I love Daemon Black! As you all know by now, Lux is one of my favorite YA series and I've been missing it. I was super excited to hear about Oblivion, which is the first three books of the series from Daemon's POV (books 4 and 5 are told in a dual POV between he and Katy). I actually won a copy of the paperback from Entangled Publishing (which is only a re-telling of book 1) and was going to wait until I received it to start reading, but I really couldn't. I went ahead and bought the ebook version (which has all three books).
***The following will have spoilers from not only this book, but the entire Lux series***
I really enjoyed this book. Daemon has always been one of my favorite characters and getting his POV just enhanced my love for him. There weren't a whole lot of surprises when it came to how his thoughts differed from his actions, but there were a few. For instance – in Obsidian he initially hangs out with Katy because he tells her Dee stole his car keys and wouldn't give them back until he was nice to her. But she never stole his keys. He made the whole thing up so he'd have a reason to hang out with her. Awww.
Even though Obsidian was my favorite book in the series, it took me a little longer to get through that portion of the book than I thought it would. I think it's partly due to the fact that a lot of the Big Moments have already been revealed in Daemon's POV in bonus content in the book or JLA's website. And while Onyx was one of my least favorite books of the series, I actually really enjoyed it from Daemon's POV. That's probably due to not having to hear Katy's inner monologue incessantly thinking about how their connection is the only reason Daemon likes her and also – a lot less Blake. I liked finding out what Daemon was thinking through the whole Blake thing – with the training and the love-triangle.
I recently read Sweet Temptation which is the Sweet Evil trilogy by Wendy Higgins told in Kaiden's POV. There was a lot of skimming over explanations and events in that book to the point where I got really confused on the overall story because it had been awhile since I read the trilogy. You definitely couldn't read that book without reading the original trilogy. However, with Oblivion, I think someone could actually pick this book up without reading the originals and be able to follow the story. While not every scene was re-told, a great majority of them were and any big explanation was still included. So even if it's been awhile for you since you read the series, you don't have to worry about picking this up and being lost.
One scene I was disappointed about not having was The Note scene. Originally I thought it was supposed to be a big deal because JLA had a little statement on her website about how she wasn't allowed to reveal it's content. And then when Opposition came out and still didn't reveal it, there was backlash. JLA ended up explaining it was just Daemon being Daemon and not anything important. But I was still hoping we'd get a hint about it here. Or even just some insight from Daemon's POV without mentioning what he writes.
There's an extra scene at the end of the book – after the events of Opal – that includes Luc and Paris. We find out Luc's real motivation for "helping" on the Mount Weather mission and there's definite spin-off potential – which I originally thought could happen while reading Opposition. And big news – JLA basically confirmed on the JLAnders Facebook page that there will be a Luc/Origins spin-off happening next year called Retribution. And our favorite Luxens and Hybrid will be visited!
Overall, I really enjoyed Oblivion. I love re-tellings of stories from a different POV and JLA did a great job with it. I enjoyed the extra scenes we got from when Daemon wasn't with Katy and the greater insight we got into his character. I would say this a Must-Read for fans of the Lux series.
Overall Rating (out of 5): 4 Stars