Synopsis from Good Reads:
Simon Snow is the worst chosen one who's ever been chosen.

That's what his roommate, Baz, says. And Baz might be evil and a vampire and a complete git, but he's probably right.

Half the time, Simon can't even make his wand work, and the other half, he sets something on fire. His mentor's avoiding him, his girlfriend broke up with him, and there's a magic-eating monster running around wearing Simon's face. Baz would be having a field day with all this, if he were here—it's their last year at the Watford School of Magicks, and Simon's infuriating nemesis didn't even bother to show up.

Carry On is a ghost story, a love story, a mystery and a melodrama. It has just as much kissing and talking as you'd expect from a Rainbow Rowell story—but far, far more monsters.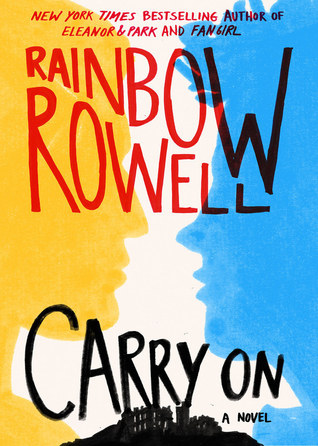 I am almost physically unable to type this about a Rainbow Rowell book, but I had a lot of doubts about Carry On. And while Rowell – obviously – put me to shame on most of them, I can't say that I loved this one.
Doubt:
The Simon and Baz parts of Fangirl were my least favorite parts. Pretty much every time I've re-read Fangirl I skipped right on over those parts. While fanfiction and the fictional books were a HUGE part of Fangirl, I thought it completely unnecessary that there were so many excerpts of her fanfiction. I just didn't care about Simon and Baz. I wasn't sure I wanted a whole book of them.
Reality:
It did take me a bit to get into the story and the characters, but I eventually got to the point where I couldn't put it down. I felt the set-up took a little too long to get to the actual story. One thing I've read in a lot of reviews is that a lot of people didn't like that there were bits of information thrown at you about things that happened prior to the events of this book, like you've missed out on all these things. However, I kind of liked the style. It reminded me a lot of an episode of Community where it involved all these flashbacks, but the flashbacks weren't from previous episodes – it was like the characters have lives outside of the episodes we see them in and I like it.
Doubt:
I'm just going to say it (and please don't hate) – The Romance. Generally gay romance in books aren't my thing. I don't have a problem with them (which I also hate saying – like the straight white girl is fine with it, you all can read it now), but I don't go out of my way to be all diverse about it. I'm straight, I like reading about straight romance. Just like I imagine someone who is part of the LGBTQIA community enjoys reading romance they identify with more than they enjoy a straight romance.
Reality:
What Rainbow Rowell does best is bringing the cute romance and she always delivers – gay or straight. I did not really enjoy this book at all until Baz shows up. Simon is better when Baz is around (and not just because when Baz was missing Simon incessantly whined about it) and I enjoyed every page where they're interacting. Their Enemies to Temporary Allies to Romantic Partners relationship was so fun to watch unfold and I ship it.
So now that the doubts are out of the way, let's get on with the rest of it. I really liked that it's told in Multiple 1st Person POV – my favorite style. I didn't think the voices were super-distinctive, but I rarely got confused about who I was reading about.
If this book wasn't by Rowell I wouldn't have picked it up, just because of all the comparisons to Harry Potter. I've never read Harry Potter (yes, I know) and honestly I probably never will. I read a lot of paranormal, but I'm not a huge fan of full out fantasy. So when I step back from the characters and look at the overall plot, I'm kind of underwhelmed. I thought a lot of it was predictable, honestly. I cared about Simon. I cared about Baz. I even cared about Penny. But the rest of it…eh.
Overall, I did enjoy Carry On, but I didn't love it like I do most Rowell books. While the first 30% or so I was almost ready to DNF, it really picked up once Baz shows up and I did really enjoy reading about the characters and the relationships from that point on. This is a good example of a book that's generally out of my comfort zone and I'm glad that I read it.
Overall Rating (out of 5): 3.5 Stars