Synopsis from Good Reads:
Devon Tennyson wouldn't change a thing. She's happy watching Friday night games from the bleachers, silently crushing on best friend Cas, and blissfully ignoring the future after high school. But the universe has other plans. It delivers Devon's cousin Foster, an unrepentant social outlier with a surprising talent for football, and the obnoxiously superior and maddeningly attractive star running back, Ezra, right where she doesn't want them first into her P.E. class and then into every other aspect of her life.

Pride and Prejudice meets Friday Night Lights in this contemporary novel about falling in love with the unexpected boy, with a new brother, and with yourself.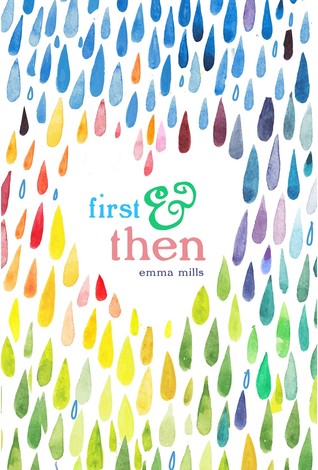 I wasn't planning on reading any books this month since I'm participating in NaNoWriMo, but then this came available at the library and I thought I'd give it a try in between writing. Because, really, I can't just give up on reading for a whole month. Once I started First & Then I didn't really want to put it back down.
At first, Devon is a very unlikable character. She was kind of snarky – in an obnoxious way instead of funny. I hated the way she treated her cousin Foster, who had come to live with her family. He seemed pretty obviously on the Spectrum and she was kind of mean to him. She was also kind of a jerk to a lot of people when she didn't need to be. But her character really grew throughout the story. She started to take things more seriously and became nicer to people. Her relationship with Foster was slow building, but she really came to care for him and they formed a really tight siblingship. The one thing that I would've liked to see her get over, though, is that she literally ran away from conflict instead of dealing with it.
One of the things that really drew me to this novel was the Pride & Prejudice reference. Devon is a big Jane Austen fan and made a lot of comparisons between her life and what would have happened if she lived in Austen's world. Her slow burn, dislike-to-love relationship with Ezra was very reminiscent of an Austen novel and I loved it. There weren't a lot of Super Cute moments between them that you expect in YA Contemporary, but there were many subtle, heartwarming moments that led up to the Big moment.
The cast of supporting characters were a little uneven. Devon's best friend, Cas, whom she's crushed on forever, is funny and seems pretty solid, but there were a few moments where he came off jerky. While there wasn't anything catastrophic in their relationship, I ended up not caring for him by the end. I LOVED Ezra's best friend, Jordan. He was kind of everybody's friend and though in some ways he was a typical teenage guy, a lot of the time he was like the voice of reason, and also the comic relief. There's a couple of random girls thrown in that are basically just stereotypes used to create some sort of friction or drama, but I guess they served their purpose. There is one big question about Marabelle, though, that is never answered and that kind of annoyed me.
Overall, I really enjoyed First & Then. It was very character-driven and I really appreciated the overall arc of Devon's character and her relationships with both Foster and Ezra. Even though there wasn't a whole lot that happened, I wish the book was longer, because I didn't want to stop reading it. I would definitely recommend it to fans of YA Contemporary and those that want to read a romance that's reminiscent of the good old days of Jane Austen.
Overall Rating (out of 5): 4 Stars