As you all know, the Lux series by Jennifer Armentrout is one of my favorite YA series and my favorite book of that whole series is the one that started it all, Obsidian. Right now, to prepare us for JLA's new book, Oblivion, which is Daemon's POV of the first three novels in the series (books 4 and 5 gave a dual perspective from him and Katy), Obsidian e-books are free until November 29th!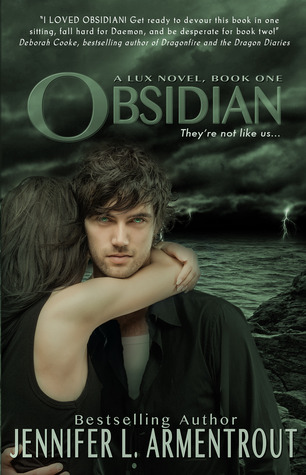 Starting over sucks.

When we moved to West Virginia right before my senior year, I'd pretty much resigned myself to thick accents, dodgy internet access, and a whole lot of boring… until I spotted my hot neighbor, with his looming height and eerie green eyes. Things were looking up.

And then he opened his mouth.

Daemon is infuriating. Arrogant. Stab-worthy. We do not get along. At all. But when a stranger attacks me and Daemon literally freezes time with a wave of his hand, well, something… unexpected happens.

The hot alien living next door marks me.

You heard me. Alien. Turns out Daemon and his sister have a galaxy of enemies wanting to steal their abilities, and Daemon's touch has me lit up like the Vegas Strip. The only way I'm getting out of this alive is by sticking close to Daemon until my alien mojo fades.

Get it for your Nook or Kindle!
I don't know about you, but I am super excited to get to visit Daemon and Katy again in Oblivion!
Experience the epic love story of OBSIDIAN as told by its hero, Daemon Black…

I knew the moment Katy Swartz moved in next door, there was going to be trouble. Lots of it.

And trouble's the last thing I need, since I'm not exactly from around here. My people arrived on Earth from Lux, a planet thirteen billion light years away. Plus, if there's one thing I know, it's that humans can't be trusted. We scare them. We can do things they only dream about, and honestly, we make them look weak as hell. 'Cuz they are.

But Kat is getting to me in ways no one else has, and I can't stop myself from wanting her—or wanting to use my powers to protect her. She makes me weak, and I'm the strongest of our kind, tasked with protecting us all. So this one simple girl…she can mean the end for us. Because the Luxen have an even bigger enemy—the Arum, and I need to stay on my game.

Falling for Katy—a human—won't just place her in danger. It could get us all killed, and that's one thing I'll never let happen…
Oblivion will be available December 1, 2015!