Synopsis from Good Reads:
A groundbreaking story about a teenage girl who discovers she was born intersex… and what happens when her secret is revealed to the entire school. Incredibly compelling and sensitively told, None of the Above is a thought-provoking novel that explores what it means to be a boy, a girl, or something in between.

What if everything you knew about yourself changed in an instant?

When Kristin Lattimer is voted homecoming queen, it seems like another piece of her ideal life has fallen into place. She's a champion hurdler with a full scholarship to college and she's madly in love with her boyfriend. In fact, she's decided that she's ready to take things to the next level with him.

But Kristin's first time isn't the perfect moment she's planned—something is very wrong. A visit to the doctor reveals the truth: Kristin is intersex, which means that though she outwardly looks like a girl, she has male chromosomes, not to mention boy "parts."

Dealing with her body is difficult enough, but when her diagnosis is leaked to the whole school, Kristin's entire identity is thrown into question. As her world unravels, can she come to terms with her new self?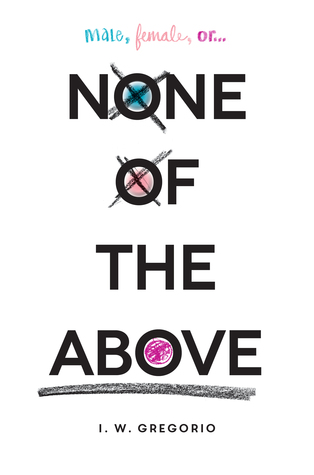 If I only gave a rating based on subject matter, None of the Above would get 5 stars for it's unique premise. I think it did a very good job dealing with that, but the rest of the novel just fell a little bit short for me.
Let's start with what really worked. Before this book came out, I didn't have much knowledge at all on what it meant to be Intersex. What interests me so much about it is that it's an actual medical condition. There are different kinds of Intersex and I wish those would have been explored more, but the kind the main character, Krissy, has is AIS. From all outward appearance she is female. However, she doesn't have a uterus and DOES have testicles. She has a Y chromosome.
When Krissy finds this out she is obviously stunned. I can't imagine the confusion and even fear that such a diagnosis would cause. I think that the range of Krissy's reaction to the news is done really well. It's a long road from discovery to acceptance and while I don't think the book ends with her total acceptance, she is on her way there. Gregorio did an excellent job of writing the process in a very empathetic way and I really felt for Krissy and her father as they came to terms with it.
Now where it didn't quite work for me. This novel is definitely character-driven, which I appreciate, but I just felt like it lacked story. There are a few side-plots, but the focus is almost completely on Krissy's emotions and thought processes. I'm not saying that's wrong by any means, but I just wish there was more to the plot than her diagnosis. I also found the end to be a little abrupt. I think an epilogue showing Krissy even a few months down the road would have really benefited the overall story.
Krissy herself, while very empathetic, was not that likable of a character. She was the type of character I usually hate reading about in YA – has "frenemies", gets drunk, has sex before she should, is impulsive, has no backbone. She also has a "role-reversal" type of relationship with her father where she often has to be the strong one for him. However, while she did annoy me almost any time she was with other people or outside her house, I did like her during her introspective moments, which as I mentioned earlier, is most of the book.
I think the reaction of her classmates and friends was probably pretty accurate, if maybe a little over the top. Kids can be cruel and it was heartbreaking how some of her supposed friends and her ex-boyfriend talked to her. The saving grace seemed to be Krissy's old friend Darren. He takes the time to research what Intersex means and treats her exactly the same. I liked how their relationship grew throughout the book. I really didn't like Krissy's friendship with her two BFFs, Vee and Faith, and was kind of hoping that by the end of the book Krissy would realize that they've grown in different directions. But instead she forgive them, which I guess I can't really be upset about.
Overall, I did like None of the Above. It was a quick, easy read, despite it's subject matter. I learned a lot, without it every getting overly medical. I really liked the character development and unique concept for the book, but it's lack of substantial plot and it's many unlikable characters made it not as enjoyable as I wanted it to be. Still, I would recommend it to fans of YA and those interested in finding out more about what it means to be Intersex.
Overall Rating (out of 5): 3.5 Stars