Synopsis from Good Reads:
A man's body is found in an empty house.
His heart has been cut out and delivered to his wife and children.

He is the first victim, and Detective Inspector Helen Grace knows he will not be the last. But why would a happily married man be this far from home in the dead of night?

The media call it Jack the Ripper in reverse: a serial killer preying on family men who lead hidden double lives.

Helen can sense the fury behind the murders. But what she cannot possibly predict is how volatile this killer is—or what is waiting for her at the end of the chase…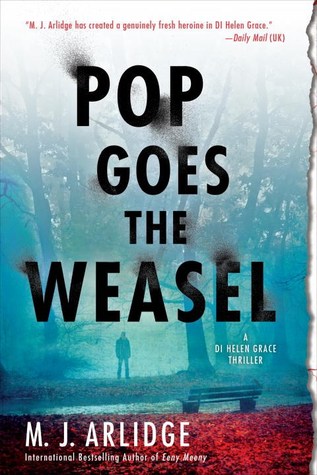 I received a copy of this title from NetGalley. It does not impact my review.
Pop Goes the Weasel will be released October 6, 2015
Helen Grace is back in Pop Goes the Weasel, the follow up to Eeny Meeny, and is on the hunt for a new serial killer. It starts when a seemingly upright citizen brutally murdered in an abandoned house most commonly used by prostitutes. Then more men, family men, keep winding up dead, all in locations prostitutes are known for. While Helen works on solving the case she must also deal with her new Detective Superintendent, Harwood, who is not a Helen fan,  the loss of her second in command and romantic interest, Mark, the general public knowing about her past, the bad memories being around Charlie brings up, and the evil Emilia, a reporter who will stop at nothing to get her story and has a personal bias against Helen.
Helen's biggest asset seems to be her new second-in-command, Tony Bridges. I started out really liking Tony. He's a smart and likable guy, good at his job. He appears pretty devoted to his wife, who is bedridden after having a stroke. Helen asks him to go undercover to try and find the prostitute serial killer and he agrees. You can probably guess what happens to make me stop liking him.
Employing the same short, fast paced chapters as Eeny Meeny, the story really moves along quickly and is compulsively readable. In addition to the main murder plotline, Helen spends a lot of time shadowing a young man named Robert who she is determined to help. It takes awhile before we find out what his connection to Helen is, but I found it fairly predictable. That said, I didn't think that particular storyline had a satisfactory ending and I hope he's in the next book. We also see some more of Jake, the Dominant Helen visits. While we don't see as much of him in this book, their relationship evolves into something a little bit more than it was and I look forward to seeing more of that, as well.
One thing that didn't really work for me was that I felt we got too many perspectives. There's a lot of characters to keep track of and we get most of their POVs. I kept mixing up some of the minor characters.
Overall, I enjoyed Pop Goes the Weasel. It was fast paced and the story kept me interested throughout. I didn't find it quite as unique or enjoyable as Eeny Meeny, though. However, I still would recommend it to those who've read the first book in the series, as well as to fans of mysteries/thrillers.
Overall Rating (out of 5): 3.5 Stars