Synopsis from Good Reads:
From New York Times bestselling author Linwood Barclay comes an explosive novel set in the peaceful small town of Promise Falls, where secrets can always be buried—but never forgotten…

After his wife's death and the collapse of his newspaper, David Harwood has no choice but to uproot his nine-year-old son and move back into his childhood home in Promise Falls, New York. David believes his life is in free fall, and he can't find a way to stop his descent.

Then he comes across a family secret of epic proportions. A year after a devastating miscarriage, David's cousin Marla has continued to struggle. But when David's mother asks him to check on her, he's horrified to discover that she's been secretly raising a child who is not her own—a baby she claims was a gift from an "angel" left on her porch.

When the baby's real mother is found murdered, David can't help wanting to piece together what happened—even if it means proving his own cousin's guilt. But as he uncovers each piece of evidence, David realizes that Marla's mysterious child is just the tip of the iceberg.

Other strange things are happening. Animals are found ritually slaughtered. An ominous abandoned Ferris wheel seems to stand as a warning that something dark has infected Promise Falls. And someone has decided that the entire town must pay for the sins of its past…in blood.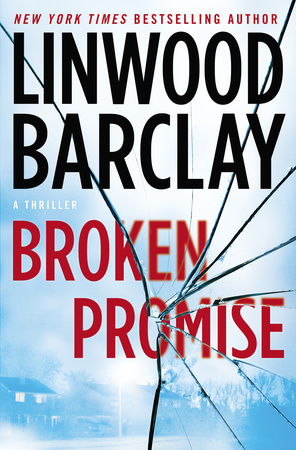 Broken Promise is the first book in a new series, but it's also a continuation of the characters from Never Look Away, which is actually one of the first reviews I ever wrote for this blog (the book was great, the review was not). While events from Never Look Away are referenced, they're mostly pretty vague and you don't have read it before reading Broken Promise. It doesn't even really give away what happens, so if you want to go back and read it, you're still in for some surprises.
It's been a couple years since the events of Never Look Away has occurred and David finds himself an unemployed single father, living with his parents. His mother sends him to check on his cousin who is grieving over the loss of her baby – and seemed to have gone a little crazy. When David shows up at her house, he finds her with a baby she claims was dropped off by an angel. David finds an address he believes to be the real home of the baby and when he shows up there he finds a murder scene. David being David, he can't help but to do a little investigating of his own when his cousin appears to be the prime suspect.
As the story went on, I started to suspect a lot of things. Even though I was usually right, it was written in such a way that I still felt surprised at every reveal. Barclay is really a master of this genre and I love his writing. All of the characters are very well developed and there is really rich imagery. I usually don't care for too much description, but I really appreciated it here. While the romance (if you can even call it that) was a very small portion of the book, I was 100% against it. Poor David has just awful taste in women. I think it has the potential to add a lot of unnecessary drama in future installments of the series and I'm really hoping that a new love interest is introduced instead.
There an abundance of side plots in this story. Some of them are connected to the central mystery, but there are a couple that aren't resolved by the end of the book and appear to set things up nicely for the next book in the series. While it slightly annoyed me to not have answers, I know Barclay will eventually take care of it and I'm really looking forward to the next book.
Overall, I really enjoyed Broken Promise. I love that we get to see more of David Harwood and Detective Duckworth. There was also a quick cameo from Cal from A Tap on the Window. Barclay is one of my favorite mystery/suspense writers and this book definitely did not disappointment. I recommend it to all fans of the genre.
Overall Rating (out of 5): 4 Stars