Synopsis from Good Reads:
How do you move on after losing the person you loved? How do you build a life worth living?

Louisa Clark is no longer just an ordinary girl living an ordinary life. After the transformative six months spent with Will Traynor, she is struggling without him. When an extraordinary accident forces Lou to return home to her family, she can't help but feel she's right back where she started.

Her body heals, but Lou herself knows that she needs to be kick-started back to life. Which is how she ends up in a church basement with the members of the Moving On support group, who share insights, laughter, frustrations, and terrible cookies. They will also lead her to the strong, capable Sam Fielding—the paramedic, whose business is life and death, and the one man who might be able to understand her. Then a figure from Will's past appears and hijacks all her plans, propelling her into a very different future. . . .

For Lou Clark, life after Will Traynor means learning to fall in love again, with all the risks that brings. But here Jojo Moyes gives us two families, as real as our own, whose joys and sorrows will touch you deeply, and where both changes and surprises await.

After You is quintessential Jojo Moyes—a novel that will make you laugh, cry, and rejoice at being back in the world she creates. Here she does what few novelists can do—revisits beloved characters and takes them to places neither they nor we ever expected.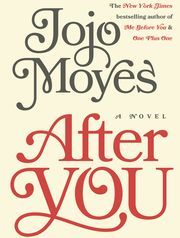 I received a copy of this title from NetGalley. It does not impact my review.
After You will be available September 29, 2015.
**This review will include spoilers from Me Before You, the first book in the series.**
Though I'm a big fan of a good standalone, there's often times I finish a book and just want MORE of those characters and that world. I usually do not get my wish, but every once in awhile an author answers the plea of the fans, and maybe even the calling of the characters themselves, and gives us all what we want. This is the case with After You.
It's been a little while since I read Me Before You and I didn't remember a lot of details. I was going to re-read it before starting this book, but honestly I just do not have the emotional fortitude to put myself through that again. However, I still remember the overall arc of the story and the feelings (oh the feelings!) of it. Though Will ending his life through assisted suicide was obviously heart wrenching, we were left with hope for Lou's future, as she puts into practice all that she learned through her time with Will.
While I wouldn't go so far as to say Assisted Suicide was glorified in the first book, the Pros of it were definitely highlighted. In this book, the other side of suicide is greater explored – the grief and pain it imparts on those left behind. When we meet up with Louisa again she is not living life to the fullest nor going on grand adventures as Will had hoped for her. She lives in a sparsely furnished apartment, working in a dead end job, has no friends, and is pretty deeply depressed coping with the loss of Will. After a drunken, life-threatening accident lands her back home, her parents insist she start attending a support group to help her cope. The support group wasn't as big a part of the book as I expected it to be. Though they did provide some insight for Lou and many eccentric, humorous characters, I think one of the biggest roles it plays is re-introducing Lou to a possible love interest.
The turning point for Lou begins when the "figure from Will's past arrives". It's really hard to talk about this without going into spoilers, so I will just say that this figure's name is Lily. If I gave you three guesses as to how she's related to Will's past, you would probably get it right on the first try. I didn't really mind that it's kind of an obvious plot development, but what I did mind was how much I completely HATED Lily. I could empathize with her some, but I really have very little tolerance for such bad behavior. I hated her for walking all over Lou and the fact that Lou just let her made me start to hate Lou a little bit, too.
I enjoyed seeing Lou's family again and some strife between her parents adds some humor to the story. I liked Sam, the new love interest, but I was never as invested in their relationship as I was with Lou and Will. That said, I think he plays an important role in Lou's life and I like how their relationship arc goes.
Overall, I was a little disappointed in After You. Though I'm glad I didn't end up an emotional wreck after this book like I was after the first, I would've liked to have felt a little more connected to the characters. I felt it was good to show the other side of assisted suicide in this book, but I wish Lou would have had a better support system. Though she did eventually join Moving On, she never really fully participated in it. She tried to use helping Lily as her salvation, instead. She did eventually learn to cope and move on and her relationship with Lily stabilized, though. I really, really hated Lily and I think that colored a big portion of the book for me in a negative light. Even though I was a little disappointed with it, I am very happy that Moyes answered her readers and gave us this follow-up to Me Before You and I think the fans will enjoy it – especially those who can tolerate Lily more than I could.
Overall Rating (out of 5): 3 Stars