Synopsis from Good Reads:
A sumptuous and epically told love story inspired by A Thousand and One Nights

Every dawn brings horror to a different family in a land ruled by a killer. Khalid, the eighteen-year-old Caliph of Khorasan, takes a new bride each night only to have her executed at sunrise. So it is a suspicious surprise when sixteen-year-old Shahrzad volunteers to marry Khalid. But she does so with a clever plan to stay alive and exact revenge on the Caliph for the murder of her best friend and countless other girls. Shazi's wit and will, indeed, get her through to the dawn that no others have seen, but with a catch . . . she's falling in love with the very boy who killed her dearest friend.

She discovers that the murderous boy-king is not all that he seems and neither are the deaths of so many girls. Shazi is determined to uncover the reason for the murders and to break the cycle once and for all.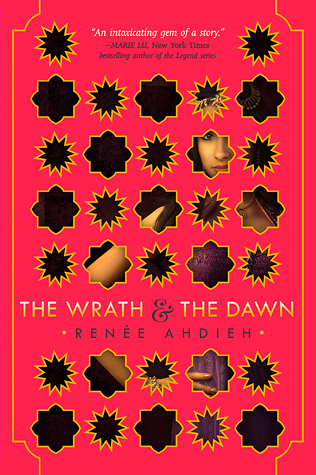 I often tend to disagree with the hype surrounding popular books, which is why I was so pleasantly surprised by how much I liked The Wrath and the Dawn. It's not a perfect book by any means, but I really quite enjoyed it.
The Wrath and the Dawn is apparently an A Thousand and One Nights re-telling. I'm not really familiar with A Thousand and One Nights, so I can't tell you how it works as a re-telling. This story focuses on a young king, or caliph, Khalid who is in a routine of getting married one night and then having his new wife killed by the following dawn. Shahrzad is a young girl who volunteers as a new bride, her heart set on avenging the death of her best friend who was one of Khalid's wives. In doing so, she unwittingly becomes the catalyst to a new army uniting against the caliph, and to her father learning a dark, dangerous magic.
I have to point out here that one of the main plot points I found a little ridiculous. Shazi volunteers to become a bride so she can kill Khalid. You would think she has some sort of solid plan in place. But her whole fate rests on telling him a story and not finishing it by dawn, so he'll want to let her live another day to hear the rest of the story. Ummm, ok? But, it works and he lets her live. And because she's such a special snowflake, he keeps letting her live and they – surprise – start to fall in love. Even though it's obvious and predictable and fast, I was a fan of the romance between them and their growing relationship.
Shazi was not always a likable character. She was impulsive, immature, and arrogant. However, she was written in such a way that I still cared about her and was rooting for her. Khalid also had a lot of the same characteristics so they worked together. I did like Khalid a lot, though, because who doesn't love the whole tortured soul thing?
There are several side characters I liked, as well. Jalal is Khalid's cousin and captain of the guard. He's the stereotypical sidekick – charming, arrogant, comic relief, but actually very smart and loyal. Shazi's childhood sweetheart, Tariq, is on a mission to save Shazi from the fate he believes awaits her and his best friend, Rahim (who also serves as a bit of comic relief), joins him. One character I really didn't care for was Shazi's father. He's determined to make up for his prior weakness and he goes down a dark path of magic. I was actually kind of surprised by the magical elements of this book. While it was subtle, it's central to the major plot.
Overall, I really enjoyed The Wrath and the Dawn. I liked the relationship between Shazi and Khalid and that they both grew a little throughout the story. While there were several points I found the plot a little on the ridiculous side and the ending I found a bit unsatisfying, the well-developed characters and the overall story really makes up for it. I would definitely recommend this book to fans of YA and I'm eagerly anticipating the next installment
Overall Rating (out of 5): 4 Stars