Synopsis from Good Reads:
What if the world's worst serial killer…was your dad?

Jasper "Jazz" Dent is a likable teenager. A charmer, one might say.

But he's also the son of the world's most infamous serial killer, and for Dear Old Dad, Take Your Son to Work Day was year-round. Jazz has witnessed crime scenes the way cops wish they could—from the criminal's point of view.

And now bodies are piling up in Lobo's Nod.

In an effort to clear his name, Jazz joins the police in a hunt for a new serial killer. But Jazz has a secret—could he be more like his father than anyone knows?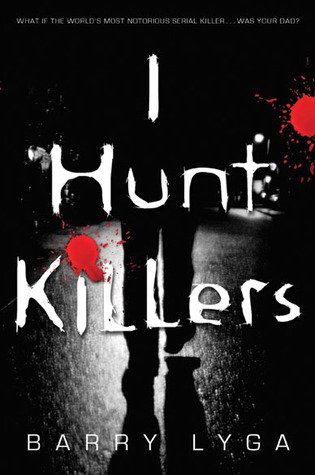 I Hunt Killers has been on my radar for a while now, but it's not an e-book at my library and I'm super stingy about buying books from authors I'm unfamiliar with so it's just been sitting there patiently on my TBR shelf. I recently won a giveaway for a Nook Book of my choice and it seemed like the perfect opportunity to finally check this out.
I'm a fan of serial killer plotlines. The psychological impact on the characters always makes for some compelling characters, which I love. I Hunt Killers is a new twist on the genre that I haven't read before. The main character is not the cop/law enforcement officer chasing him down or the serial killer, but his son. Billy Dent is the world's most notorious serial killer and has over 120 kills to his name. He's used several different personas, "The Artist", "Green Jack", "Hand-in-Glove", and  has taught his son, Jasper ("Jazz") everything he knows in hope that he will carry on "the family business." Jasper has no intention of following in his father's footsteps, but the brainwashing he received from Billy all those years has seriously messed with his head and he is constantly on alert for the stray thoughts or incident that could easily push him over the edge to becoming his father.
The character development in this book was phenomenal. I really felt like I got into Jasper's head throughout the story and it was not always a pleasant place to be. I'm a fan of the tv show Dexter and this book has a bit of a Dexter vibe at times. Dexter's struggle with his "dark passenger" is similar to how Jasper struggles with Billy's voice constantly in his head – telling him how to kill and that he should.  Jasper tries to combat the increasingly alluring inner voice by repeating a mantra of, "People matter" to remind him that they aren't the insignificant and disposable things to be used for his own purposes, as Billy taught him. He keeps pictures of all of Billy's victims on his bedroom wall to be reminded of what he doesn't want to be. When a new serial killer shows up in town he's desperate to help – not just to prove to the town that it isn't him, but to prove to himself that he's on the right side.
While he tries to ignore the most gruesome of Billy's teachings, he has become a master manipulator and often utilizes those skills to get him what he wants. He usually knows that it's wrong, but he also justifies it to himself and this peek into the possible sociopathic mindset is part of what makes his character so interesting.
I really enjoyed Jazz's best friend, Howie, as well. He was a great side-kick, comic relief, but also got in on some of the action. His hemophilia is also an interesting addition to his character. He's physically extremely vulnerable and thus an easy target, which makes for a surprising choice of BFF for a could-be serial killer. I also liked the sheriff, G. William, and Jazz's girlfriend, Connie.
Overall, I enjoyed I Hunt Killers and am glad I finally got to read it. I haven't encountered many YA books that pull off suspense and creepiness the way that this one does. It's dark and slightly gruesome, but it's balanced out with a bit of humor. While there were a few predictable moments, I was often in suspense. I loved the characterization of Jasper. I'm looking forward to see what happens in the rest of the series.
I struggled a bit with what to rate this, but I think because of the unique plot idea and the great characterization, I'm going to bump up my original 3.5 to 4.
Overall Rating (out of 5): 4 Stars