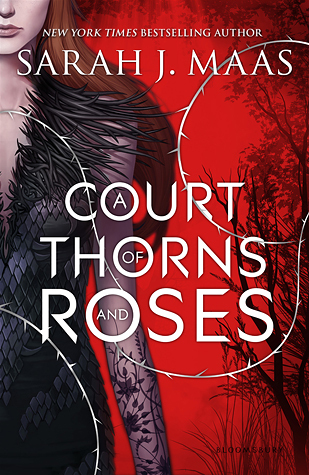 Synopsis from Good Reads:
When nineteen-year-old huntress Feyre kills a wolf in the woods, a beast-like creature arrives to demand retribution for it. Dragged to a treacherous magical land she only knows about from legends, Feyre discovers that her captor is not an animal, but Tamlin—one of the lethal, immortal faeries who once ruled their world.

As she dwells on his estate, her feelings for Tamlin transform from icy hostility into a fiery passion that burns through every lie and warning she's been told about the beautiful, dangerous world of the Fae. But an ancient, wicked shadow grows over the faerie lands, and Feyre must find a way to stop it . . . or doom Tamlin—and his world—forever.
So apparently my purpose in the blogosphere is to naysay the hype. Let me start by saying that I did like this book. The hype monster didn't completely ruin it for me. However, it was a pretty middle-of-the-road book for me. I can't for the life of me understand all the 5-Star Perfect reviews it gets.
A Court of Thorns and Roses is loosely inspired by Beauty and the Beast. This time the beast is a faerie and the curse involves masquerade masks, not enchanted housewares. Most of the book was pretty different from Beauty and the Beast, but there were a few moments where Tamlin and Feyre start to grow closer where in my head I started singing, "Newwwwww, and a bit alarming…"
Some random thoughts, since I'm not feeling a whole review…
-I was often a little confused by a lot of the faerie going-ons and politics – and the curse, but for the most part the world building was pretty well done.
-Feyre was pretty well developed and she grew throughout the story, but I found myself annoyed by her sometimes. Her attitude at the end of the book, while understandable, makes me dread how whiney she's going to be in the second book.
-The Great Rite…it sounded like an erotica subplot…This book had some graphic moments that puts it firmly in the NA genre – cover your eyes kiddos!
-Tamlin was a pretty good leading man and I liked him, but due to the curse where he couldn't always be straightforward, he kind of came across as a liar. And in the second half of the book we barely get to spend any time with him and the love story I was starting to get into was kind of forgotten.
-While Feyre & Tamlin's relationship was supposed to be a hate to love situation, I didn't think Feyre really ever hated him that much and the shift to love wasn't that dramatic. That said, I was a fan of the romance, though my shipping waned once we got Under the Mountain
-Lucien was a perfect side character – friend to both Tamlin and Feyre, comic relief, tragic backstory.
-I have to say I kind of loved Rhysand. Don't get me wrong, I'm dreading the inevitable love triangle to come, but Rhysand is by far the most compelling character of the book. He's strong and clever and devious and thoughtful and broody and mysterious. More Rhys, please.
-The story was pretty slow-paced. There were a couple faster-paced, action-packed scenes towards the end, but it wasn't enough to make up for the overall slow-paced, dragged out feel.
-The writing was good enough, but there were some times where the imagery, dialogue, or situation made me roll my eyes a bit.
Overall, A Court of Thorns and Roses was a mostly enjoyable book. I liked it enough that I plan on reading the second book. I really, really disliked Throne of Glass by the same author and had no intention of reading any more from her. So while I definitely don't think this book deserves all the hype it gets, if it wasn't for that hype, I never would have given this book a chance and I'm' glad that I did.
Overall Rating (out of 5): 3 Stars