Synopsis from Good Reads:
When Quinn Sullivan meets the recipient of her boyfriend's donated heart, the two form an unexpected connection.

After Quinn loses her boyfriend, Trent, in an accident their junior year, she reaches out to the recipients of his donated organs in hopes of picking up the pieces of her now-unrecognizable life. She hears back from some of them, but the person who received Trent's heart has remained silent. The essence of a person, she has always believed, is in the heart. If she finds Trent's, then maybe she can have peace once and for all.

Risking everything in order to finally lay her memories to rest, Quinn goes outside the system to track down nineteen-year-old Colton Thomas—a guy whose life has been forever changed by this priceless gift. But what starts as an accidental run-in quickly develops into more, sparking an undeniable attraction. She doesn't want to give in to it—especially since he has no idea how they're connected—but their time together has made Quinn feel alive again. No matter how hard she's falling for Colton, each beat of his heart reminds her of all she's lost…and all that remains at stake.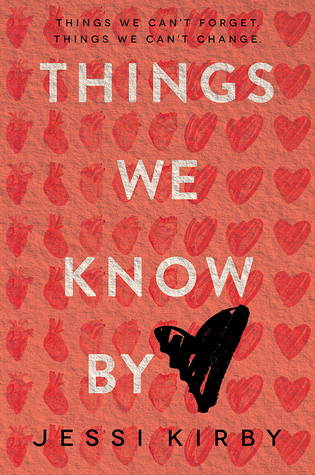 I've been trying to avoid "sick lit" lately, instead preferring lighter contemporary, but I've kept seeing this book pop up around the blogosphere and decided I wanted to give it a try. I have to say, though, what really made me want to read it is that it remind me of the movie, Return to Me where a couple falls in love without either of them know she is the recipient of his wife's heart.
Things We Know by Heart gets right to the point. I was wary of there being chapters upon chapters of nothing but Quinn's grief before we even meet Colton, but within the first couple of chapters we've learned the background and brought up to speed with her plan of just wanting to see Colton, the guy who now has her dead boyfriend, Trent's, heart. She doesn't plan to interact with me, but she does. I wouldn't say their relationship is instalove, but maybe instalike. Though she's determined to stay away, Colton pursues her to spend more time with him. They start hanging out more and more and her family is very happy to see her living life again after so long. While she still feels guilty about moving on from her relationship with Trent, she also feels guilty for omitting so much of the truth from Colton. Since he seems to be omitting the truth of his own heart surgery from her, she talks herself into letting things go on this way. However, as you can guess, things don't stay hidden forever.
Despite this book employing one of my least favorite plot devices/tropes ever – the "Somebody has a big  secret they're afraid to tell and the longer it goes on the harder it is to tell it, until eventually it comes out and could ruin everything (but doesn't)" – I enjoyed this book. I felt like the characters were genuine and likable and the plot, while a little farfetched, is believable. Though Colton and Quinn liked each other right away, the romance was more of a slow burn, which I like.
I liked the family element to the story. Quinn has a pretty good relationship with her parents, grandmother, and sister. It's nice to see a strong family in YA, which often casts parents as absent or villainous. Colton is close to his sister, though we don't actually see too much of her. His parents, however, were absent for the entire story, which seemed a little odd to me.
Added to the beginning of every chapter were quotes about hearts, either clinical or poetic. I liked some of the clinical ones, learning more about heart transplants or the life of a recipient. However, I don't feel like they really added anything to the story and could have gone without them.
Overall, I enjoyed Things We Know by Heart. It had an interesting premise which I felt was executed well. The characters were likable and the romance between Colton and Quinn was very sweet. I would recommend it to fans of YA contemporary or fans of the movie Return to Me.
Overall Rating (out of 5): 3.5 Stars