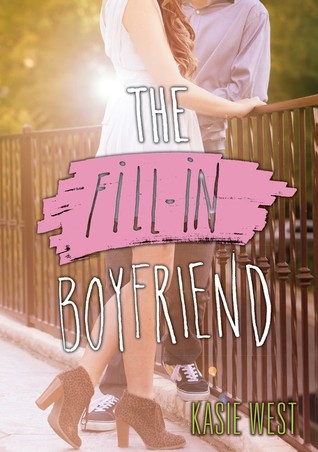 Synopsis from Good Reads:
When Gia Montgomery's boyfriend, Bradley, dumps her in the parking lot of her high school prom, she has to think fast. After all, she'd been telling her friends about him for months now. This was supposed to be the night she proved he existed. So when she sees a cute guy waiting to pick up his sister, she enlists his help. The task is simple: be her fill-in boyfriend—two hours, zero commitment, a few white lies. After that, she can win back the real Bradley.

The problem is that days after prom, it's not the real Bradley she's thinking about, but the stand-in. The one whose name she doesn't even know. But tracking him down doesn't mean they're done faking a relationship. Gia owes him a favor and his sister intends to see that he collects: his ex-girlfriend's graduation party—three hours, zero commitment, a few white lies.

Just when Gia begins to wonder if she could turn her fake boyfriend into a real one, Bradley comes waltzing back into her life, exposing her lie, and threatening to destroy her friendships and her new-found relationship.
I really enjoyed reading this book. I never wanted it to end!
Kasie West is really one of my favorite YA authors. Her characters are relatable, her male leads are sweet, and they act like high school students.
As like most of West's leading ladies, Gia comes off a little unlikable at first. She's pretty and popular and kind of shallow. We meet her as she's being dumped in the parking lot of her senior prom by her college-aged boyfriend. She's afraid to go into prom alone because her frenemy, Jules, has been trying to convince her other friends that Bradley never existed and Gia was just making him up. (This sounds kind of silly, but I did have a friend in high school who actually used to make up guys and then tell real elaborate stories about how she met them that I later felt stupid for believing.) Though she is upset over being dumped by Bradley, she's more upset about having to face the possibility that her friends will dump her, so when she sees a guy sitting in his car, she convinces him to pretend to be Bradley and go to prom with her.
Luckily for Gia, Fill-in Bradley (FIB) is an actor and he plays the part well. So well that Gia can't stop thinking about him. However, he leaves without her ever getting his real name and his sister, Bec, is not a Gia fan and won't help her get in contact with him again – until she finds out he's going to his cheating ex-girlfriend's party and then she enlists Gia to return the fake relationship favor. From there a real friendship forms, not just between Gia and FIB, but Gia and Bec, as well. Adorableness ensues.
If there's one relationship cliché trope I love, it's the Fake Relationship. While this book didn't have quite as much of the fake relationship scenarios I like to read, it still fit the bill. It actually focused way more on the actual relationship between Gia and FIB when they weren't pretending to be anything else and that's what really made this book so sweet. FIB isn't perfect, but I loved him. He was very sweet and caring and funny. I loved the bantery fun between him and Gia. I also liked his relationship with his sister and his mom. Though his dad is mentioned several times as being a good guy, we never actually get to meet him, which disappointed mea little.
As I said above, Gia was a little unlikable at first, but she grows a lot throughout the story and becomes  a lot more likable. I felt her fears of not being good enough for her friends was a relatable and I liked how that part of the storyline played out. Her parents were present, but not great. I wish they would've been a little more developed and acted a little more like parents.
Overall, I really enjoyed The Fill-in Boyfriend. It definitely packed the cute that I expect from a Kasie West novel, but it also had some relatable themes on growing up and friendship that were well done. I would recommend it to fans of contemporary YA (especially those that appreciate more "clean" contemporary) and fans of West's other books.
Overall Rating (out of 5): 4 Stars