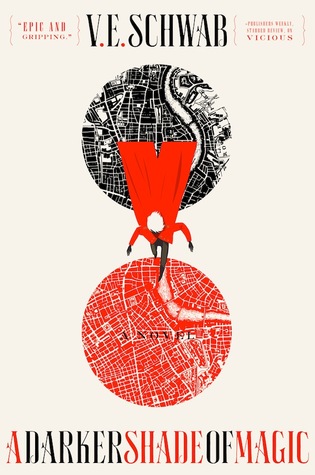 Synopsis from Good Reads:
Kell is one of the last Travelers—rare magicians who choose a parallel universe to visit.

Grey London is dirty, boring, lacks magic, ruled by mad King George. Red London is where life and magic are revered, and the Maresh Dynasty presides over a flourishing empire. White London is ruled by whoever has murdered their way to the throne. People fight to control magic, and the magic fights back, draining the city to its very bones. Once there was Black London—but no one speaks of that now.

Officially, Kell is the Red Traveler, personal ambassador and adopted Prince of Red London, carrying the monthly correspondences between royals of each London. Unofficially, Kell smuggles for those willing to pay for even a glimpse of a world they'll never see. This dangerous hobby sets him up for accidental treason. Fleeing into Grey London, Kell runs afoul of Delilah Bard, a cut-purse with lofty aspirations. She robs him, saves him from a dangerous enemy, then forces him to another world for her 'proper adventure'.

But perilous magic is afoot, and treachery lurks at every turn. To save all of the worlds, Kell and Lila will first need to stay alive—trickier than they hoped.
I'm still not sure what to think of this book. With all the hype going into it I tried to keep my expectations low to avoid disappointment. I succeeded in not being disappointed, but I'm still left feeling a little underwhelmed, I guess.
Let's start with what I liked. The writing. The writing is, quite honestly, fantastic. It's hard to explain how I can like the writing so much and not necessarily the story it tells. There would just be these moments where the phrasing was perfect. Here and there one line of dialogue could just set the tone perfectly. I also liked the formatting of it. It was told in many parts, each part broken up into smaller chapters. A long book is always less intimidating when it's broken down like that.
The general premise of the story is interesting. Multiple worlds where only a special few can travel between. One world wanting to dominate the others. Magic. However, it just never really came together for me. At about 100 pages into the story I felt like it was still just in the world-building phase. It took about 200 pages to get to the part mentioned in the synopsis where Lila makes a deal with Kell to bring her along for an adventure. The pacing was just a little too slow for me.
I liked Kell well enough, though he was prone to stupidity often. I just wish he would have been developed more. This was definitely not a character-driven novel, which is usually what I go for. We get just the barest of background on him and a peek into his life with the royal family. The only thing we really see is how much he cares for his "brother", Prince Rhy, who I also wish we got more of. Lila got on my nerves from the first time she's mentioned. I didn't entirely mind her by the end, but for the majority of the book I was wishing she wasn't a part of it. I loved – as in loved to hate – the Dane twins of White London. They were creepy and awful and so much fun to hate.
Overall, A Darker Shade of Magic was an interesting read and I plan on continuing the series whenever the next book comes out. I think fans of in-depth fantasy worlds would enjoy it. After reading only one other book by this author, The Archived, which I was not impressed by, I was not really expecting to like this book as much as I did. The writing is worth at least 4 stars, but the actual story itself was more of a 3 star read to me, so I'm going to compromise at 3.5 stars.
Overall Rating (out of 5): 3.5 Stars