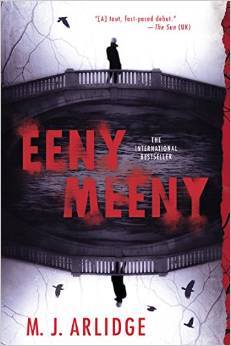 Synopsis from Good Reads:
Two people are abducted, imprisoned, and left with a gun. As hunger and thirst set in, only one walks away alive.

It's a game more twisted than any Detective Inspector Helen Grace has ever seen. If she hadn't spoken with the shattered survivors herself, she almost wouldn't believe them.

Helen is familiar with the dark sides of human nature, including her own, but this case—with its seemingly random victims—has her baffled. But as more people go missing, nothing will be more terrifying than when it all starts making sense….
I received a copy of this title from NetGalley. It does not impact my review.
Eeny Meeny will be available June 2, 2015.
Eeny Meeny is an intense thriller that kept me glued to the pages for days.
Helen Grace is a detective investigating a disturbing murder. In a Saw-like scenario, two people are trapped with no escape and are left with a gun with one bullet. Once one of them is dead, the other will be freed. After the first "winner" of the game escapes, it is not long before another couple go missing. The cases get even more disturbing for Helen when she suspects the victims are somehow connected to her.
I really liked the writing style of this book. It's told in 3rd person POV and we get the perspective of Helen and her fellow officers Charlie and Mark, each of the victims, the killer, and a BDSM dominant who may have feelings for his mysterious client (don't worry, it's not as Fifty Shades as it sounds). The shift in perspectives, as well as the short chapter lengths, really made the story clip along at a quick pace and kept me engaged.
Helen was not an easy character to like, but I was definitely rooting for her throughout the book. She's a good cop, but struggles with all personal relationships. I liked Mark and was really hoping for his happy ending. I felt like the character development was done very well, especially when juggling so many characters and some of them are only seen for a few chapters.
One word of caution is that the book can get quite graphic at times. No detail is spared when describing the precarious conditions the victims are facing, especially after they've been trapped for a couple days.
Overall I enjoyed Eeny Meeny. It was an intense thriller with well-developed characters, smart writing, and a plot that will make you question your own humanity. I recommend it to fans of crime/mystery/thrillers, who don't mind a little bit of the graphic and resolutions that aren't necessarily Happily Ever After.
Overall Rating (out of 5): 4 stars