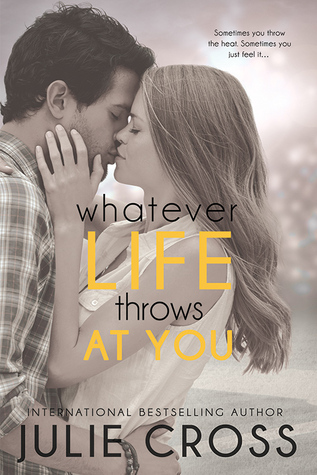 Synopsis from  Good Reads:
Life loves a good curveball…

Seventeen-year-old Annie Lucas's life is completely upended the moment her dad returns to the major leagues as the new pitching coach for the Kansas City Royals. Now she's living in Missouri (too cold), attending an all-girls school (no boys), and navigating the strange world of professional sports. But Annie has dreams of her own—most of which involve placing first at every track meet…and one starring the Royals' super-hot rookie pitcher.

But nineteen-year-old Jason Brody is completely, utterly, and totally off-limits. Besides, her dad would kill them both several times over. Not to mention Brody has something of a past, and his fan club is filled with C-cupped models, not smart-mouthed high school "brats" who can run the pants off every player on the team. Annie has enough on her plate without taking their friendship to the next level. The last thing she should be doing is falling in love.

But baseball isn't just a game. It's life. And sometimes, it can break your heart…
WHAT I LIKED
-Annie's relationship with her dad. Though they had some fights, he was always present and always supportive. He wasn't perfect, but he was realistic and a good parent.
-Annie's sense of humor and the banter between her and her friend, Lenny, and also with Brody.
-The behind the scenes look at the baseball industry was an interesting plot line that I haven't seen in YA before.
-The character development. I really liked all of the main characters – Annie, Brody, Jim, Savannah, Lenny and they all go grow throughout the book.
-The romance is cute. There could have been a bit of an ick factor with the one character being an "adult" major league player and the other being a high school student, but really they're 19 and 17 and about the same level of maturity, so it wasn't really bad.
-The ending was sweet and gave good closure for all the characters.
WHAT I DIDN'T LIKE
-This little gem that made me definitely feel too old to be reading YA, "He's still handsome, even at thirty-six years old."  It's the "even" that gets me haha.
-Another YA book that's a little too graphic, with a somewhat irresponsible view of sex.
-There was a lot of emphasis put on how Annie needed to not cause any "scandals" because she's the pitching coach's daughter. Admittedly I don't really pay attention to baseball, but I couldn't even name a pitching coach, let alone care what their kids do. That part didn't really seem realistic at all.
-The relationship between Annie's parents could have been explored a little bit more.
Overall, Whatever Life Throws at You was a sweet, enjoyable read with strong character development. While parts were a little too mature for what I think YA should be, it's probably one of the better YA contemporaries I've read.
Overall Rating (out of 5) 3.5 Stars