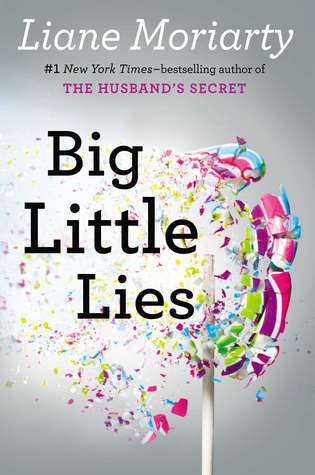 Synopsis from Good Reads:
Big Little Lies follows three women, each at a crossroads:

Madeline is a force to be reckoned with. She's funny and biting, passionate, she remembers everything and forgives no one. Her ex-husband and his yogi new wife have moved into her beloved beachside community, and their daughter is in the same kindergarten class as Madeline's youngest (how is this possible?). And to top it all off, Madeline's teenage daughter seems to be choosing Madeline's ex-husband over her. (How. Is. This. Possible?).

Celeste is the kind of beautiful woman who makes the world stop and stare. While she may seem a bit flustered at times, who wouldn't be, with those rambunctious twin boys? Now that the boys are starting school, Celeste and her husband look set to become the king and queen of the school parent body. But royalty often comes at a price, and Celeste is grappling with how much more she is willing to pay.

New to town, single mom Jane is so young that another mother mistakes her for the nanny. Jane is sad beyond her years and harbors secret doubts about her son. But why? While Madeline and Celeste soon take Jane under their wing, none of them realizes how the arrival of Jane and her inscrutable little boy will affect them all.

Big Little Lies is a brilliant take on ex-husbands and second wives, mothers and daughters, schoolyard scandal, and the dangerous little lies we tell ourselves just to survive.
I was so obsessed with this book! I can't believe I almost let it expire from the library before I decided to give it a try! I think the synopsis makes it sound like it was going to be serious and kind of hum drum. However, it's surprisingly hilarious. The satirical views of small community life were spot on and the recollection of events from the school parents made me laugh out loud.
Big Little Lies starts on Parent Trivia Night at the local school where high tensions and too much champagne result in disaster. We then go back 6 months earlier and get to know the characters and what led up to that awful night. Included in the beginning or ending of each chapter are snippets of witness statements that gradually clue us in to what happened. However, instead of mentioning what happened on Trivia night, they mostly make self-indulgent comments of themselves or mockingly judgmental comments of others. It was funny to see all the different view points and how easy it is for things to be taken completely out of context.
The main focus of the story falls on three of the women who have kids starting kindergarten. Madeline tends to be on the self-obsessed side and thrives on drama, but she's there for her friends. She'd dealing with her ex-husband having a daughter also starting school and their shared daughter is now a teenager and seems to be favoring her father and step-mother instead of her. Celeste is rich and beautiful and has a seemingly perfect life, but she's constantly putting on an act for those around her to hide what her husband does to her behind closed doors. Jane is a young, single mother new to town and on the first day of orientation her son is accused of bullying another student. Due to the only violent incident she knows of his father, she's afraid the rumor might just be true.
I loved all of these characters. They were all very different and at times could be over the top, but they were very real and relatable. I loved Madeline's good-humored husband, Ed, and the local owner of the coffee shop, Tom. The kids also made for several humorous moments.
Though the book was very funny, it dealt with some very serious issues. Bullying, rape, and domestic abuse, just to name a few. I felt like these were all handled in a respectful and realistic way and was glad to see the growth and development of those involved.
Overall, Big Little Lies was a compelling, compulsive read that I just loved. The humor was surprising in the most delightful way and was a wonderful way of balancing out the heavier issues involved. I was expecting a big twist at the end, though, and ended up being a tiny bit let down that the ending was not as explosive as I was expecting. This is the only reason I'm not giving this  book 5 stars.
Overall Rating (out of 5): 4.5 Stars