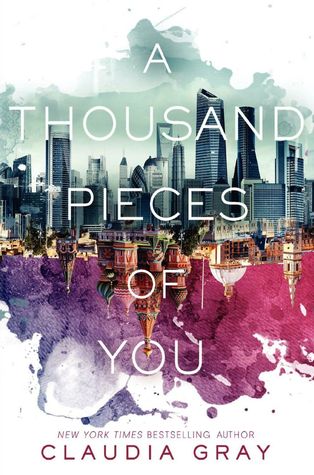 Synopsis from Good Reads:
Marguerite Caine's physicist parents are known for their radical scientific achievements. Their most astonishing invention: the Firebird, which allows users to jump into parallel universes, some vastly altered from our own. But when Marguerite's father is murdered, the killer—her parent's handsome and enigmatic assistant Paul—escapes into another dimension before the law can touch him.

Marguerite can't let the man who destroyed her family go free, and she races after Paul through different universes, where their lives entangle in increasingly familiar ways. With each encounter she begins to question Paul's guilt—and her own heart. Soon she discovers the truth behind her father's death is more sinister than she ever could have imagined.

A Thousand Pieces of You explores a reality where we witness the countless other lives we might lead in an amazingly intricate multiverse, and ask whether, amid infinite possibilities, one love can endure.
You know when you read a book just because of it's pretty cover, things don't always turn out the way you want them to. However, since A Thousand Pieces of You has had such a waiting list at the library, I've had plenty of time to read other reviews before I got into it. While I mostly skimmed them to avoid any possible spoilers, one thing I picked up on was that there was way more romance in this than people expected. That didn't really put me off it, I just decided to go into it expecting a YA romance.
However, it didn't totally work for me as a romance. While it had it's share of sweet moments, it was hard to buy. While you can't blame it on "insta-love" because the characters have all known each other for a long time, it's like an "insta-love" loophole. Like just by saying they've all known each other awhile is enough to make the suddenness of it ok. And the love triangle was weird – and I'm not including Theo in that triangle.
It also didn't really work for me as a sci-fi mystery/suspense story. Trying to understand the Firebird in the beginning was confusing. The lengthy stop in Russia was basically pointless, other than to set up the odd love triangle (which still didn't really have that much of a lasting impact on the overall story). Where it finally started to make sense was in the third dimension the trio stopped in where we got a lot more information. Even though by then I had some things pretty much figured out, I wanted to see how it was resolved.
Overall, A Thousand Pieces of You was ok, but a little disappointing. There were several times I got so bored I was going to DNF it, but because I had waited so long for it, I wanted to see it through. I found the overall idea intriguing, but the execution of it fell a little short for me. I think if the next book focuses more on the Firebird and Triad, it would be worth reading.
Rating (out of 5)