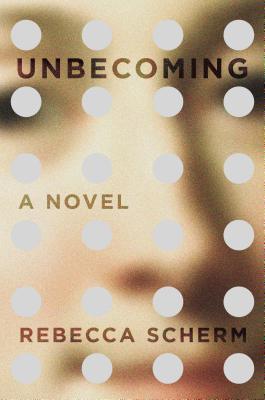 Synopsis from Good Reads:
A major debut novel of psychological suspense about a daring art heist, a cat-and-mouse waiting game, and a small-town girl's mesmerizing transformation.

On the grubby outskirts of Paris, Grace restores bric-a-brac, mends teapots, re-sets gems. She calls herself Julie, says she's from California, and slips back to a rented room at night. Regularly, furtively, she checks the hometown paper on the Internet. Home is Garland, Tennessee, and there, two young men have just been paroled. One, she married; the other, she's in love with. Both were jailed for a crime that Grace herself planned in exacting detail. The heist went bad—but not before she was on a plane to Prague with a stolen canvas rolled in her bag. And so, in Paris, begins a cat-and-mouse waiting game as Grace's web of deception and lies unravels—and she becomes another young woman entirely.

Unbecoming is an intricately plotted and psychologically nuanced heist novel that turns on suspense and slippery identity. With echoes of Alfred Hitchcock and Patricia Highsmith, Rebecca Scherm's mesmerizing debut is sure to entrance fans of Gillian Flynn, Marisha Pessl, and Donna Tartt.
I received a copy of this title from NetGalley. It does not impact my review.
I've read some good book so far this year, but nothing that has really stood out. Unbecoming, while not what I was expecting, is easily my favorite book of the year so far.
I love a good character-driven novel and this definitely fits the bill. I didn't find this quite as suspenseful as the synopsis makes it sound, nor is it an exciting heist story. If you're looking for those elements, Unbecoming may be lacking for you, but for me the character study completely made up for it. Grace is a young woman hiding from her old life. She is the root of the reason that her secret husband and his best friend has been in jail for three years and lives in fear of them coming back for revenge. This is the overall plot, but the real story is just Grace herself.
It is not an easy thing for such an unlikable character to be compelling, even sympathetic, but Scherm really pulls it off. While there were a few times in the book where I completely loathed Grace, overall I really did like disliking her. She is not the psychopath you might find in a Gillian Flynn novel, but a quieter kind of pathological. She's selfish, a liar, and a thief, but you would never know it until you really get to know her. And she's smart enough to never let that happen. Told in alternate timelines, we meet Grace as Julie the amateur art-restorer in Paris. Interwoven with her present life in Paris, we travel back to Grace growing up in Tennessee, to her college semester in New York, and to her return to Tennessee as she tries to desperately live the life she's always wanted.
While the synopsis makes it sound that the robbery is the focal point of the novel, it's more of the midpoint. There is Grace Before it happened and Grace After it happened. The real psychological suspense aspect for me didn't come until the final part of the book when one of Grace's biggest fears come to fruition. There is no dramatic climax or fight scene or narrow get away. The story continues at it's methodical pace and I really had no idea what was going to happen next, how it was all going to turn out.
Overall, I really enjoyed Unbecoming. One of my few complaints of the novel is the information overload of antiques/art and the restoration process. There were many times where less information would have gone a long way and one of those instances where it felt like the author had done a lot of research and wanted to make sure it was all useful. Other than that, I loved the style, the alternating timelines, the character development, and even how truly unlikable the characters were. I would definitely recommend this book to fans of character-driven novels and I look forward to reading whatever Scherm comes up with next.
Rating (out of 5):