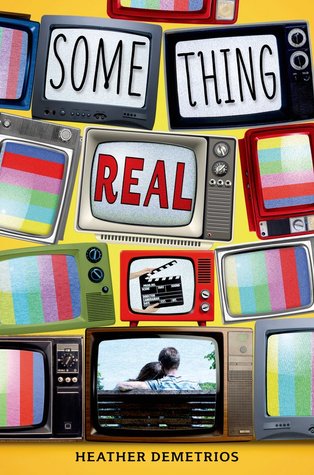 Synopsis from Good Reads:
There's nothing real about reality TV.

Seventeen-year-old Bonnie™ Baker has grown up on TV—she and her twelve siblings are the stars of one-time hit reality show Baker's Dozen. Since the show's cancellation and the scandal surrounding it, Bonnie™ has tried to live a normal life, under the radar and out of the spotlight. But it's about to fall apart…because Baker's Dozen is going back on the air. Bonnie™'s mom and the show's producers won't let her quit and soon the life she has so carefully built for herself, with real friends (and maybe even a real boyfriend), is in danger of being destroyed by the show. Bonnie™ needs to do something drastic if her life is ever going to be her own—even if it means being more exposed than ever before.
I love reality tv. I can't help it. So I knew I would be picking this book up at sometime or another. I tend to go for the competition shows (Survivor, Amazing Race) or home improvement shows (Property Brothers, Love it or List It), or my greatest guilty pleasure, Mystery Diner, more than the family-type shows (Sister-Wives, Keeping up with the Kardashians, 19 Kids and Counting), though. Something Real is definitely more of a play on the family-type shows, particularly the one with John and Kate Gosselin.
Once upon a time the young Baker couple wanted to have a baby, but were having trouble, so they pitched a show to a big network that they wanted "A Baker's Dozen". So fast forward several years and they now have thirteen children and their whole lives have been chronicled on a tv show. However, having a baker's dozen worth of kids and cameras in your face all the time is not as charming as it seems. Much like the reality show this is obviously inspired by, the patriarch of the family cheats on his wife with a much younger woman and then leaves the family and is an absentee parent. The show ends when Bonnie has an extreme reaction to the pressure. The mother moves the family and remarries and Bonnie is now going by Chloe and lies to all her friends about her reality tv past and things are going well, until Chloe suddenly finds out that the show is going back on the air.
I enjoyed large portions of this book. I liked all the behind the scenes drama of having one's life constantly filmed. I loved to hate the manipulative producer who stirred the pot and capitalized on every traumatic moment. I loved, loved Chloe's love interest, Patrick Sheldon. He was basically the perfect guy, with just a touch of Edward Cullen-eque obsessiveness at times. I loved the relationship between Chloe and her brother Benton.
There were, unfortunately, several things that didn't work for me, though. Chloe was way over-dramatic most of the time. She did have very valid points about not wanting to be on the show and having privacy and shouldn't have been threatened by the producer as much as she was, but she still took things way too dramatically. The mother was ridiculous. I think it would've been a little more realistic to give her at least a couple of humanized moments where she wasn't completely awful. I also felt like the ending left things way too open. There was a lot of time spent building up to certain things and the book ends before we find out the outcomes.
Overall, I enjoyed Something Real. Most of the books I've read so far this year have been kind of heavy, so it was definitely time for some light YA fun. While the book ran maybe a touch too long and was often a little over-dramatic, the romance was sweet, the characters were well developed and the premise was interesting.
Rating (out of 5)