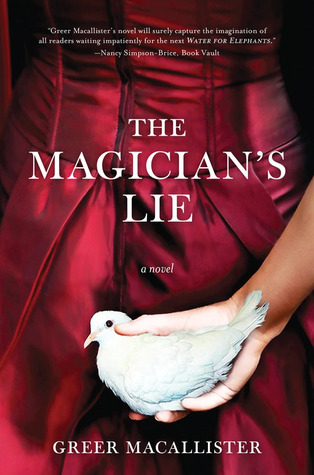 Synopsis from Good Reads:
Water for Elephants meets The Night Circus in The Magician's Lie, a debut novel in which the country's most notorious female illusionist stands accused of her husband's murder –and she has only one night to convince a small-town policeman of her innocence.

The Amazing Arden is the most famous female illusionist of her day, renowned for her notorious trick of sawing a man in half on stage. One night in Waterloo, Iowa, with young policeman Virgil Holt watching from the audience, she swaps her trademark saw for a fire ax. Is it a new version of the illusion, or an all-too-real murder? When Arden's husband is found lifeless beneath the stage later that night, the answer seems clear.

But when Virgil happens upon the fleeing magician and takes her into custody, she has a very different story to tell. Even handcuffed and alone, Arden is far from powerless—and what she reveals is as unbelievable as it is spellbinding. Over the course of one eerie night, Virgil must decide whether to turn Arden in or set her free… and it will take all he has to see through the smoke and mirrors.
I found myself a little disappointed with this book. As much as I try not to let book comparisons influence my feelings, the main reason I wanted to read this book was the "Water for Elephants meets The Night Circus" comparison. I haven't read Water for Elephants, but I saw the movie and wasn't that impressed. However, The Night Circus is one of my favorite books ever. So  before I go any further, let me just say this: The Magician's Lie is nothing at all like The Night Circus. Which isn't a bad thing – unless you go in with the expectation that it is.
What worked for me in this book was the writing. I like multiple timeline stories when done well and I feel like it was done pretty well here. The majority of the book details Arden's past and how she went from a child named Ada to the Amazing Arden illusionist. While not always the most likable character, Arden is very well developed. Though not given as much in depth information, I felt Holt was well developed, as well, and much more likable.
What didn't work for me was the ending. I felt like I was supposed to be tricked along the way and shocked by the ending. However, I guessed the ending long before it was revealed and found much of the story leading up to it to be slow and drawn out. This wasn't the mind-bending surprise I was hoping for.
Overall, The Magician's Lie was an ok read for me. I think people who like historical novels or those that like information about magicians/illusionists might enjoy it, as long as you disregard the book comparisons. While the story wasn't what I was expecting, I liked the writing and I'll definitely be giving Macallister another try when she writes something else.
Rating (out of 5):