So between starting a new job and being miserably sick, I haven't gotten a lot of reading done this week. So since there are no reviews coming anytime soon, I thought I'd go ahead and fill out the end of the year survey. It's hosted by The Perpetual Page Turner
2014 Reading Stats:
Number Of Books You Read: 126 as of today
Number of Re-Reads: 15 that I kept track of, but I'm sure there were more
Genre You Read The Most From: When breaking it down into basic genres of YA, NA, and Adult, the winner is YA. But since I did the break down, here it is:
YA= 74
NA = 12
Adult = 40
Best In Books
1. Best Book You Read In 2014?
Though they didn't score my highest star rated reviews, the two I'm picking are: One Plus One by Jojo Moyes and Illusions of Fate by Kiersten White
2. Book You Were Excited About & Thought You Were Going To Love More But Didn't?
 Opposition by Jennifer Armentrout. I really loved this series starting out, but the last couple books just didn't live up to my expectations.
3. Most surprising (in a good way or bad way) book you read in 2014? 
Dangerous Girls by Abigail Haas. In a good way!
4. Book You "Pushed" The Most People To Read (And They Did) In 2014?
 I only really push books on my sister and she usually holds out for a long time, but eventually realizes that I have excellent taste in books 🙂  I've been bugging her for years to read Attachments by Rainbow Rowell and she finally did – and loved it.
 5. Best series you started in 2014? Best Sequel of 2014? Best Series Ender of 2014?

Started: The Lynburn Legacy by Sarah Rees Brennan
Sequel: Cress by Marissa Meyer
Ender: Ignite Me by Tahereh Mafi
 6. Favorite new author you discovered in 2014?
Jojo Moyes!!!
7. Best book from a genre you don't typically read/was out of your comfort zone?

 I don't read a lot of non-fiction, so I'll go with the only non-fiction book I've read all year, Yes Please by Amy Poehler
 8. Most action-packed/thrilling/unputdownable book of the year?

Dangerous Girls by Abigail Haas
 9. Book You Read In 2014 That You Are Most Likely To Re-Read Next Year?
Illusions of Fate by Kiersten White – loved it so much I bought the hardcover
10. Favourite cover of a book you read in 2014?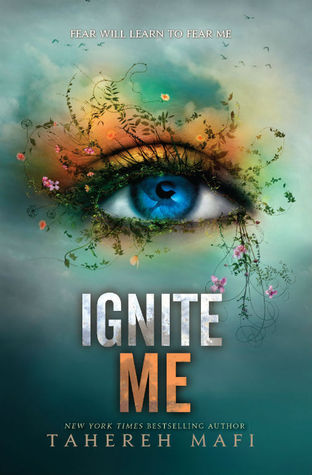 Ignite Me by Tahereh Mafi
11. Most memorable character of 2014?
The Raven Boys and Blue
 12. Most beautifully written book read in 2014?
The Scorpio Races by Maggie Stiefvater
13. Most Thought-Provoking/ Life-Changing Book of 2014?
 Truth, Lies, and the Single Woman: Dispelling Ten Common Myths by Allison K. Flexer
 14. Book you can't believe you waited UNTIL 2014 to finally read? 
The Last Letter from your Lover by Jojo Moyes. It's been on my TBR for awhile and it became my first Jojo Moyes book.
 15. Favourite Passage/Quote From A Book You Read In 2014?
I'm not really sure. I'm not good with remembering quotes.
16.Shortest & Longest Book You Read In 2014?
Shortest- Busted by Karin Slaughter – 68 pages
Longest- City of Heavenly Fire by Cassandra Clare – 725 pages
(How I did this: Went to my read books on Goodreads and sorted by page number and just looked for what I knew I read this year that was the shortest and longest).
17. Book That Shocked You The Most
I don't know. I didn't read anything that I found overly shocking.
18. OTP OF THE YEAR (you will go down with this ship!)

(OTP = one true pairing if you aren't familiar)
Juliette and Warner from the Shatter Me series
19. Favourite Non-Romantic Relationship Of The Year
Kami and Angela from the Lynburn Legacy
20. Favourite Book You Read in 2014 From An Author You've Read Previously
Just to be different than the first question, Cress by Marissa Meyer
21. Best Book You Read In 2014 That You Read Based SOLELY On A Recommendation From Somebody Else/Peer Pressure:
22. Newest fictional crush from a book you read in 2014?
Sean Kendrick from The Scorpio Races
23. Best 2014 debut you read?
The Girl who Never Was by Skylar Dorset
24. Best Worldbuilding/Most Vivid Setting You Read This Year?
Ravka- The Grisha Trilogy
25. Book That Put A Smile On Your Face/Was The Most FUN To Read?
Illusions of Fate by Kiersten White
26. Book That Made You Cry Or Nearly Cry in 2014?
Me Before You by Jojo Moyes
27. Hidden Gem Of The Year?
Definitely, Maybe in Love by Ophelia London
28. Book That Crushed Your Soul?
Forbidden by Tabitha Suzuma
29. Most Unique Book You Read In 2014?
Oblivion by Sasha Dawn
30. Book That Made You The Most Mad (doesn't necessarily mean you didn't like it)?
After Dead: What Came Next in the World of Sookie Stackhouse by Charlaine Harris. This book was a "coda" after the final book in the series that served as a bit of an epilogue for each character in the series. Nice idea, but poorly executed. Especially when one major character's chapter was only this: "John Quinn had many more adventures."  Really?
Your Blogging/Bookish Life
1. New favourite book blog you discovered in 2014? 
I enjoy lots of different blogs.
2. Favourite review that you wrote in 2014? 
The Dancing Master by Julie Klassen. It's currently the most liked review of the book on Good Reads 🙂
3. Best discussion/non-review post you had on your blog?
It's Not Me, It's You: Breaking up with the New Adult Genre
4. Best event that you participated in (author signings, festivals, virtual events, memes, etc.)?
I went to a release day event for Linda Castillo's The Dead will Tell and got to meet her!
5. Best moment of bookish/blogging life in 2014?
I've surpassed 200 followers
6. Most Popular Post This Year On Your Blog (whether it be by comments or views)?
Review: Look Behind You by Sibel Hodge
7. Post You Wished Got A Little More Love?
Hmm, I don't know.
8. Best bookish discovery (book related sites, book stores, etc.)?
NaNoWriMo
9. Did you complete any reading challenges or goals that you had set for yourself at the beginning of this year?
The only challenge I did was the Good Reads Challenge and I surpassed it
 Looking ahead
1. One Book You Didn't Get To In 2014 But Will Be Your Number 1 Priority in 2015?
I don't know if I would say it's my number one priority, but I still haven't read The Harry Potter series
2. Book You Are Most Anticipating For 2015 (non-debut)?
Winter by Marissa Meyer
3. 2015 Debut You Are Most Anticipating?
Red Queen by Victoria Aveyard
4. Series Ending/A Sequel You Are Most Anticipating in 2015?
Winter by Marissa Meyer
5. One Thing You Hope To Accomplish Or Do In Your Reading/Blogging Life In 2015?
Create a new review format or rating system
6. A 2015 Release You've Already Read & Recommend To Everyone:
The Mime Order by Samantha Shannon