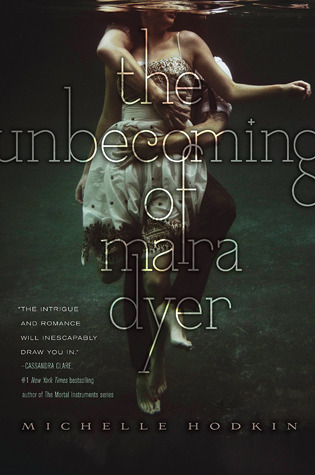 Synopsis from Good Reads:
Mara Dyer believes life can't get any stranger than waking up in a hospital with no memory of how she got there.
It can.

She believes there must be more to the accident she can't remember that killed her friends and left her strangely unharmed.
There is.

She doesn't believe that after everything she's been through, she can fall in love.
She's wrong.
The blogosphere seems to be in love with the Mara Dyer series, so I finally decided I needed to get with the program and try it out. Unfortunately I think the hype surrounding it left me feeling a little disappointed with it.
I was expecting something mind-twisty and supernatural. This book definitely has those elements, but for the most part I felt it was overshadowed by the romance plot line. The Unbecoming of Mara Dyer was more of a girly, high school book than anything else. That's not necessarily a bad thing, it just wasn't what I was expecting.
It has the clichéd YA romance: New Girl catches the attention of the Hottie Hot Hot guy that every girl wants (and several have briefly had) and there's something special about her that makes him want to change his bad boy ways. She "hates" him at first, but we all know there's a thin line between love and hate and after witnessing his vulnerable side, the line is quickly crossed over to love. Blissful moments are interspersed with misunderstandings since this is the first book in the series and obviously they can't have a healthy, happy relationship yet.
Despite my slight irritation with the romance, I did actually like both Mara and Noah. I thought both of their characters were pretty well developed. I also really liked Mara's brother, Daniel. I liked how Mara's family was portrayed, that even though they weren't perfect, they all had pretty good relationships with each other and the parents were present and loving and not absentee like a lot of other YA families are.
I thought Hodkin did a good job of keeping me guessing about Mara's mental state. She sees visions, she has blackouts, she's super paranoid, she has nightmares that might be memories. She also may or may not be able to kill people just by thinking about it.
Overall, The Unbecoming of Mara Dyer was an ok read for me. I didn't feel like it lived up to the hype, but I did like it enough that I plan on reading the rest of the series. I would recommend it to fans of YA romance with some supernatural on the side.
Rating (out of 5):
Plot: 3
Characters: 3
Readability: 3
Enjoyability: 3
Overall Rating: 3 Stars