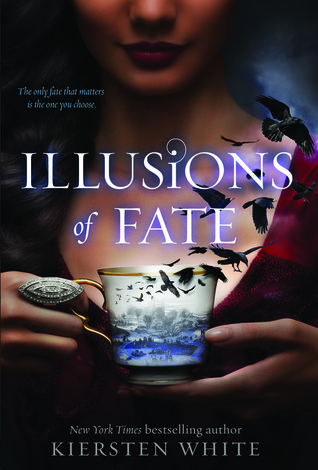 Synopsis from Good Reads:
"I did my best to keep you from crossing paths with this world. And I shall do my best to protect you now that you have."

Jessamin has been an outcast since she moved from her island home of Melei to the dreary country of Albion. Everything changes when she meets Finn, a gorgeous, enigmatic young lord who introduces her to the secret world of Albion's nobility, a world that has everything Jessamin doesn't—power, money, status…and magic. But Finn has secrets of his own, dangerous secrets that the vicious Lord Downpike will do anything to possess. Unless Jessamin, armed only with her wits and her determination, can stop him.
So I was in quite the reading slump before this book came along. While nothing else could catch my interest, I got hooked on Jessamin and Finn almost right away. And how beautiful is this cover!
I loved Kiersten White's Mind Games duology and was expecting Illusions of Fate to be pretty similar. However, while there's still great characters and clever, quick-witted dialogue, Jessamin is a far cry from my beloved crazy, frenetic Fia – and I enjoyed her just as much. I really liked both Jessamin and Finn, as well as their friend, Eleanor – who was a total scene stealer! I found Lord Downpike to be a good villain, though I did wish his backstory was a little more developed. (I can almost excuse that, though it would be spoilery to tell you why!)
While I thoroughly enjoyed the story, it was at times a little confusing. The explanations of magic and the tensions between the countries was not always really clear to me. And while I did really like Jessamin, there were times she really fell into the paranormal YA heroine cliché – being not at all powerful like those around her, but always insisting on staying/helping and just makes things worse before inevitably saving the day. Despite that, she was a well-developed, likable character that I loved reading about.
Another thing that Illusions of Fate has going for it is that it's a standalone! While the market is inundated with series (often ones that go on way past their prime), the idea of a standalone book is very appealing to me. However, as I got about half way through the book I started getting sad that I didn't have a next one to look forward to. However, White wraps up everything before the final page – though it was almost a little too quickly for me – and gives a satisfying conclusion to the story.
Overall, I really enjoyed Illusions of Fate. It had great characters and dialogue, was pretty well-paced, and definitely broke me out of my reading slump. I think this will be a book that I end up buying so I can read it again. I would definitely recommend this book to fans of White and fans of YA paranormal/fantasy.
Rating (out of 5):
Plot: 3.5
Characters: 4
Readability: 4.5
Enjoyability: 4.5
Overall Rating: 4.125 stars