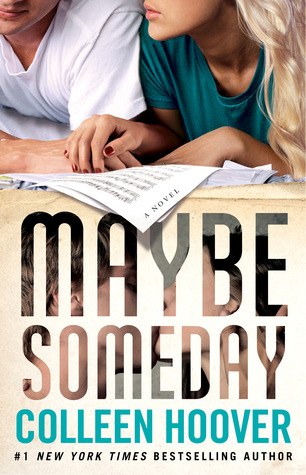 Synopsis from Good Reads:
At twenty-two years old, aspiring musician Sydney Blake has a great life: She's in college, working a steady job, in love with her wonderful boyfriend, Hunter, and rooming with her good friend, Tori. But everything changes when she discovers Hunter cheating on her with Tori—and she is left trying to decide what to do next.

Sydney becomes captivated by her mysterious neighbor, Ridge Lawson. She can't take her eyes off him or stop listening to the daily guitar playing he does out on his balcony. She can feel the harmony and vibrations in his music. And there's something about Sydney that Ridge can't ignore, either: He seems to have finally found his muse. When their inevitable encounter happens, they soon find themselves needing each other in more ways than one…

So everyone in the blogosphere seems to be in love with Colleen Hoover, and especially with Maybe Someday. I was expecting to feel all the feels I've never felt before. I was expecting extraordinary romance and an un-put-downable book. However, after all the hype, I find I'm left disappointed. It's not that the book was bad. But it wasn't great. It was kind of just so-so for me.
Oh the drama! Girl gets cheated on. Girl is heartbroken – kind of, for a bit. Girl falls for new guy – someone way better. Girl becomes the other woman. Irony ensues. But, not as much irony as there should have been. It's supposed to be different because Sydney's ex-boyfriend and ex-best friend were just having a physical thing that meant nothing, while Sydney and Ridge are actually falling in love. Despite that he's still in love with his girlfriend. And has no intention of leaving her. But, cheating is cheating, folks.
I was pretty annoyed with Ridge for most of the book. I don't believe the whole "being in love with two people at the same time" thing. While you can love more than one person at a time, it's in different ways. And it takes almost the whole book for Ridge to realize that the love he feels for these two women are different and finally makes a choice a about it.
Song writing was a big part of this book. While it was an interesting addition to the story, it just wasn't done as well as I wish it was. I didn't think the song lyrics were anything amazing. I didn't find Sydney's writing ability to be as amazing as we're supposed to believe. However, I do like that all the songs have actually been recorded and you can listen to them here.
Where this book really worked for me was with Ridge being deaf. It's always interesting to me to see the disabled community represented and how it's handled. I liked how Sydney never once thought of Ridge as disabled and never lamented the fact that he was deaf. If anything, it intensified their intimacy.
Overall, Maybe Someday was an ok read for me. While it was probably one of the better New Adult books I've read, I can't help but be disappointed since it didn't quite live up to all the hype for me. I wonder if I would've liked it more if I had gone into with no expectations. While she's not a new auto-read author, I think I'll be checking out more books by Hoover in the future.
Rating (out of 5):
Plot: 3
Characters: 3
Readability: 3
Enjoyability: 3
Overall Rating: 3 stars