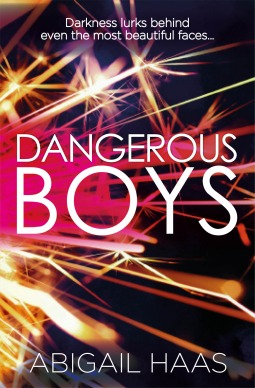 Synopsis from Good Reads:
Three teens venture into the abandoned Monroe estate one night; hours later, only two emerge from the burning wreckage. Chloe drags one Reznick brother to safety, unconscious and bleeding; the other is left to burn, dead in the fire. But which brother survives? And is his death a tragic accident? Desperate self-defense? Or murder? Chloe is the only one with the answers. As the fire rages, and police and parents demand the truth, she struggles to piece together the story of how they got there-a story of jealousy, twisted passion, and the darkness that lurks behind even the most beautiful of faces…
I recently lent a book to a co-worker -an adult mystery from a series that I really like. It's a good mystery with well-developed characters and includes some (though I didn't think a lot) graphic details of a serial killer. She gave it back to me saying that I'm more dark and twisted than she ever thought.  I wonder what she would think of me if I handed her a copy of Dangerous Boys.
I've become a fan of Abigail Haas in the same way I am a fan of Gillian Flynn. In awe of her writing and a little bit terrified of her. Both are masters of writing psychological thrills and ca-razy psychopaths.
I expected this book to be similar to Dangerous Girls, but with male protagonists. I was a little disappointed at first that it wasn't, but that disappointment didn't last long. Dangerous Boys gives us the story of Chloe, a teenage girl looking forward to heading off to college. Those plans derail when her father leaves and her mother begins a downward spiral of depression. Chloe finds herself putting off college so she can pay the bills and take care of her mother until she's better enough to go back to work.
Ethan Reznick is new to town and falls hard for Chloe. While she's not interested in any more attachments to this small town that she hates, she is interested in a distraction. Ethan proves to be a good distraction and she falls into an easy life with him and his parents. When his older brother, Oliver, sweeps into town unannounced, everything changes.
Oliver is smart and charming and worldly. He accepts no responsibility and offers no apologies. He seems free in a way that Chloe never has been. Though she knows it's wrong, she finds herself increasingly drawn to Oliver, who leads her down a dark path she never thought she was capable of, but embraces it along the way.
This is a pretty dark book, guys. Way darker than Dangerous Girls was, for sure. There isn't any one big shocking twist, but there are small, subtle continual shocking moments that lead us to the end of the story, which is really just the beginning for Chloe.
My biggest complaint is that Chloe is the only really well developed character. I would've liked much more of the Resnicks. Not just crazy Oliver and seemingly perfect Ethan, but of their parents, as well.
Overall, Dangerous Boys is another compulsive read from Abigail Haas that will creep you out and keep you turning the pages. I enjoyed the use of multiple timelines that helped build the suspense throughout the story. I would definitely recommend this book to fans of Haas, Gillian Flynn, and other psychological thrillers.
Rating (out of 5):
Plot: 3.5
Characters: 3.5
Readability: 4.5
Enjoyability: 4
Overall Rating:  3.875 stars