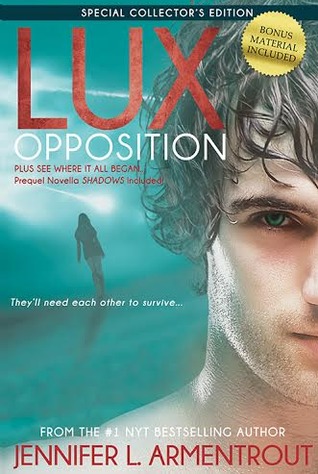 Synopsis from Good Reads
Katy knows the world changed the night the Luxen came.

She can't believe Daemon welcomed his race or stood by as his kind threatened to obliterate every last human and hybrid on Earth. But the lines between good and bad have blurred, and love has become an emotion that could destroy her—could destroy them all.

Daemon will do anything to save those he loves, even if it means betrayal.

They must team with an unlikely enemy if there is any chance of surviving the invasion. But when it quickly becomes impossible to tell friend from foe, and the world is crumbling around them, they may lose everything— even what they cherish most—to ensure the survival of their friends…and mankind.

War has come to Earth. And no matter the outcome, the future will never be the same for those left standing.
*This review contains some spoilers from the previous books in the series and some minor spoilers for this book!*
So we all know by now that I love the Lux series. It often makes it onto my Top Ten Lists and favorite character lists. I've been looking forward to Opposition for what feels like forever. While I think it was a good ending for Katy and Daemon, I was not overwhelmed by it.
The story focuses on Daemon and Katy as they face the alien apocalypse, but I didn't really feel satisfied with any of the details. It almost felt like JLA had this great idea of an alien invasion and then didn't really want to take the time to develop it. And the government's only lines of defense is to kill millions of innocent people or to let Daemon, Katy, and their friends make negotiations with the only possible ally?
In between the occasional ambush or fight sequence, Daemon and Katy are busy being young and in love. While I love seeing them as a happy and together couple, it was almost redundant at times. Yes, they are adults now. Yes, they are in love. Yes, they like to physically express that love at any and all  opportunity. It just got boring, honestly.
In Origin, JLA killed off a lot of characters and I was a little nervous that there would be no one left standing at the end of this book. While she doesn't hold back on a lot of the violence, there is only one major death in this book and it definitely packed a real emotional wallop.
One thing that really bugged me was that we didn't get an answer to this:
Onyx note: I get a lot of requests from readers wanting to know what was in the note that Daemon passed to Kat in Onyx during class. Currently, I do not have permission from the publisher to share that note or what it contains. Sorry! As soon as I do, you guys will be the first to see it.
That quote is taken directly from JLA's website. In the final pages of Opposition, that note is referenced, but other than it "scalding her cheeks" in embarrassment, we don't get any more information. However, I guess if all it is, is sexual innuendo, we don't really need to know. I just thought that since it was such a secret it would be something bigger.
Overall, Opposition was a decent end to the series. I feel like the arc of Daemon and Katy throughout  the entire series was very well done. Where the series went a little off the rails for me was when it started to center more on the government project and alien politics than on Daemon and Katy and their friends (what happened to Lesa!?! Did she die? Did she escape? Did she go to college? Couldn't there be just one sentence on her?). And I enjoyed seeing how things ended up with Daemon and Katy, Dawson and Beth, Dee and Archer, and Luc – though I do feel like it left things open enough that there could be an Origin spinoff in the works! Despite my mostly negative review of this book, I still really enjoy the series on a whole and still recommend it.
Rating (out of 5):
Plot: 2.5
Characters: 3
Readability: 3
Enjoyability: 3.5
Overall Rating: 3 stars