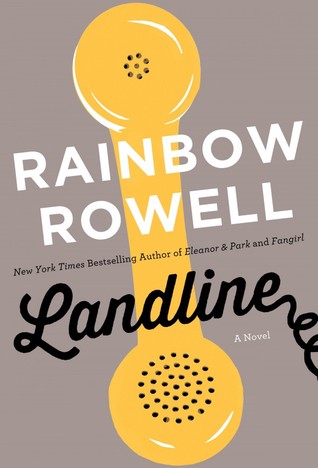 Synopsis from Good Reads:
Georgie McCool knows her marriage is in trouble. That it's been in trouble for a long time. She still loves her husband, Neal, and Neal still loves her, deeply — but that almost seems beside the point now.

Maybe that was always beside the point.

Two days before they're supposed to visit Neal's family in Omaha for Christmas, Georgie tells Neal that she can't go. She's a TV writer, and something's come up on her show; she has to stay in Los Angeles. She knows that Neal will be upset with her — Neal is always a little upset with Georgie — but she doesn't expect to him to pack up the kids and go home without her.

When her husband and the kids leave for the airport, Georgie wonders if she's finally done it. If she's ruined everything.

That night, Georgie discovers a way to communicate with Neal in the past. It's not time travel, not exactly, but she feels like she's been given an opportunity to fix her marriage before it starts . . .

Is that what she's supposed to do?

Or would Georgie and Neal be better off if their marriage never happened?
Part of me just wants to write, I LOVE RAINBOW ROWELL, and let it be the end of the review. I don't really think it's even possible for her to write something I don't like. Even the idea of a magic time-warping phone being a major plot point.
Landline has all the things I've come to expect from Rowell – witty dialogue, great characterization, and lots of emotion. What's different in Landline as compared to her other novels, is that instead of watching the main characters fall in love, our main character, Georgie, has already fallen in love – and gotten married, and had kids. It could be the post script to any of her other love stories. When the happily-ever-after may be a little light on the happy.
When the idea for a sitcom that Georgie and her long time writing partner, Seth, have been working on forever is given a possible green light, she has to skip her vacation to Neal's mother's house in Omaha for Christmas. She expects Neal to reschedule the trip (because he's always been the one in the relationship to sacrifice things), but instead he decides to take the girls and go without her. Her mother is convinced that Neal has left Georgie for good and invites her over. While Georgie insists her marriage isn't over, she begins to worry that it's heading in that direction – that it's been actively heading in that direction for awhile. With Georgie's cell phone always dead and Neal never answering his, Georgie uses the old landline phone from her childhood bedroom to call Omaha. Except the Neal she reaches is Neal from the past, specifically Neal the week before he proposed. Georgie begins to wonder if she is messing with fate, if she should save Neal from herself, if she could save her marriage before it starts, or if she's going insane.
I wasn't really sure what to think of the magic phone when I first read the synopsis. I'm still not even sure how I really feel about the magic phone. But, the magic phone is really not the story. The story is Georgie coming to terms with her faults and knowing that while there are some things she's never going to change, there are some things she can work on. For Neal. Which is really all he's ever asked of her.
I really loved the characters in this book. They all have the witty banter ability that I love. Her kooky mother and her teenage sister are both supportive and funny. Her kids are cute – and weird – and full of personality. And Neal. Neal is sweet and loving and wonderful in a way that only Rainbow Rowell can write. (I'm pretty sure I would marry ANY of Rowell's leading men. Maybe the next book can be about a magic pen that writes them into existence.) The only character I didn't completely love was Seth. Seth reminded me a little of Nick in Fangirl – using Georgie because his writing was better with her. However, unlike Nick and Cather, Seth actually cares about Georgie. They're still best friends, even after all these years, even though he's always been a point of contention between Georgie and Neal.
Overall, I really enjoyed Landline. I love Rowell's writing and the way she seamlessly flows between past and present to tell Neal and Georgie's story. I love that it's a different take on "love being enough" for making a relationship work or last. And I just love Rainbow Rowell. She has such a distinct style and it just makes me feel happy reading it – even when it sometimes is making me sad. I would recommend Landline to fans of Rowell, marriage, contemporary lit, and a little bit of magic.
Rating (out of 5):
Plot: 4
Characters: 4.5
Readability: 5
Enjoyability: 4.5
Overall Rating: 4.5 stars