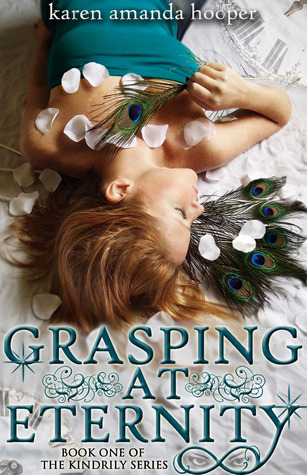 Synopsis from Good Reads:
Leave it to Maryah Woodsen to break the one rule that will screw up eternity: Never erase your memories.

Before entering this life, Maryah did the unthinkable—she erased. Now, at seventeen years old, she's clueless that her new adoptive family has known her for centuries, that they are perpetually reincarnated souls, and that they have supernatural abilities. Oh, and she's supposed to love (not despise) Nathan, the green-eyed daredevil who saved her life.

Nathan is convinced his family's plan to spark Maryah's memory is hopeless, but his love for her is undying. After spending (and remembering) so many lifetimes together, being around an empty version of his soulmate is heart shattering. He hates acting like a stalker, but has no choice because the evil outcast who murdered Maryah in their last lifetime is still after her.

While Maryah's hunter inches closer, she and Nathan make assumptions and hide secrets that rip them further apart. Maryah has to believe in the magic within her, Nathan must have faith in the power of their love, and both need to grasp onto the truth before they lose each other forever—and discover just how lonely eternity can be.
I received a copy of this title from NetGalley. It does not impact my review.
I think that this is one of those novels that suffered from a too detailed synopsis. I didn't feel like anything was really a surprise because so many major plot points are already given away.
That said, it was still a mostly enjoyable read. I really liked the cast the characters. The kindrily (like a clan of Elements – souls that can choose to retain their memories when they reincarnate and have special abilities) is large and it took awhile to get them all straight, but I think that Hooper does a good job of giving them all distinct personalities. I enjoyed reading all of their interactions.
I'm still a little confused with the explanation of the whole Kindrily process and all the rules. I feel like information was given a little too sporadically and I would've appreciated a more detailed explanation given at one time. I also thought that the subplot with Dedrick, the big villain of the story, was not well developed.
Overall, I enjoyed Grasping at Eternity. It was an interesting premise with some well developed characters. While much of the plot was predictable and the explanations a little confusing, I'm still looking forward to reading the next books in the series.
Rating (out of 5):
Plot: 3
Characters: 3.5
Readability: 3
Enjoyability: 3.5
Overall Rating: 3.25 stars